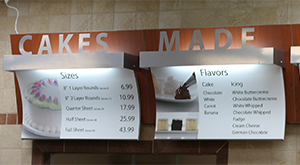 Modular Menu System
The Modular Menu System is an innovative menu board that enhances the overall look and experience in store with a cohesive design that complements the store brand and décor, and creates an eye-catching destination for fresh and inviting meals. The menu system incorporates an innovative "frameless" curved design that provides snap in graphics for store personnel to easily change out menu offerings and pricing specials. It is modular for different configurations and the graphic inserts were designed to be clearly legible and to communicate the menu effectively. The Modular Menu System won the Bronze in the 2013 OMA Award's Signage category.
Plank Menu System
The Plank Menu System is a sleek modular system with menu panel graphics that can be changed easily without the use of tools. The innovative design can be produced in a wide variety of materials and finishes to match store décor and effectively promote your brand. The Plank Menu System is available with two panels to accommodate smaller store layouts, and can be expanded up to five panels to maximize larger spaces. Hanging systems also available.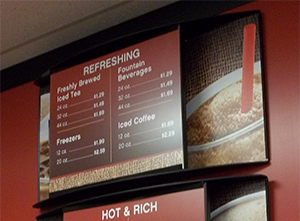 Dual Zone Menu System
Communicate food or drink offerings with this unique design that incorporates a floating copy panel over a recessed background. The Dual Zone Menu System utilizes crisp, clear copy and graphics to promote foodservice offerings. Front and back panels can be easily changed. Custom designs and sizes are available to match store décor and space requirements. This versatile system can be wall mounted or used as a tabletop menu system.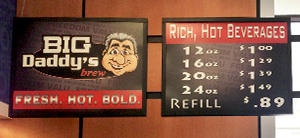 Framed Modular Menu System
The Framed Modular Menu System is an attractive single or double sided menu system with easy change out graphics for quick pricing or menu changes in store. The framed hardware provides a modern look for large food photography graphics for big impact. It can be hung on a wall with z-brackets or from a ceiling with cables. It also can be converted to a 4 sided or 3 Sided unit, with special corner connectors.