You're focused on incorporating sustainable solutions into your business and working toward building a better future for your customers. You're serious about sustainability and so are we. In fact, our SGP-certified production plant is located in Madison, Wisconsin - home of Earth Day founder, Gaylord Nelson. As your trusted advisor, we share your values and are committed to assisting you in meeting your sustainability goals.
At GSP:
Our AccuStore store profile technology prevents print overages from entering the waste stream.
We identify the most efficient use of materials, layout, packaging and logistics by considering end-of-life cycle implications.
Our team members help clients choose environmentally friendly materials and high-yield layout options when possible.
We incorporate environmental, health and safety considerations into equipment and material purchases and use.
We train employees to minimize waste – from accurately estimating purchases to the proper use of inks, solvents and chemicals as well avoiding over-printing.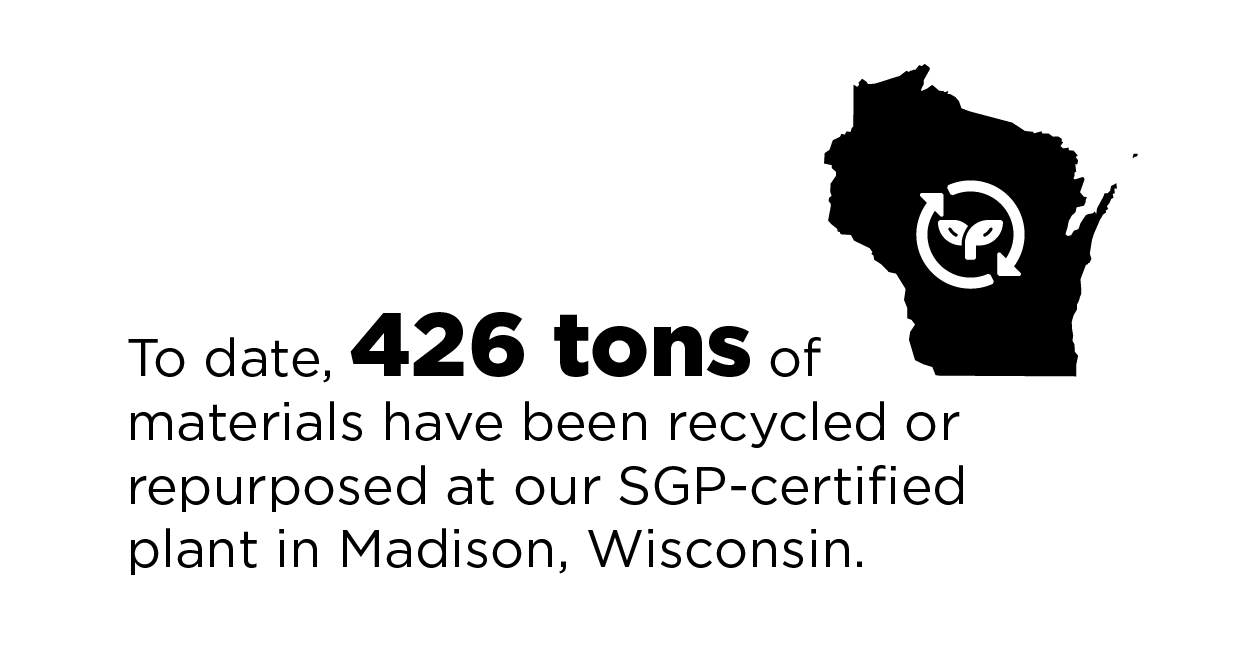 Sustainably Minded Packing and Shipping
We believe that every choice counts in the production process – even these options, which may seem small – can make a big difference.
Lightweight products make the shipping process more efficient and can help save on fuel used during transit. We create our own custom-size boxes to efficiently fit materials based on distribution, and always look for opportunities to consolidate packing for multiple campaigns to save resources – and save you money, too.
Because paper bags are easy to recycle in any municipality, we use paper bags instead of plastic bags for inside packaging.

Reclamation Program
Sustainability practices are about being authentic and creating systems that allow our team to imagine the best possible outcome for people, planet and profit. Our Reclamation Program is available to help stores recycle, reduce and reuse.
Most municipalities do not accept fabric in mainstream recycling. This program helps prevent fabric graphics from hitting landfills by bringing them back to our facility to be included in our robust recycling program. After reclamation, the fabric is turned into fuel pellets and burned to make heat.

Fabric to Fuel
Our polyester fabric waste can be recycled into a clean, renewable, alternative fuel source. Working with a sustainability partner, we're able to turn our waste materials into coal alternative pellets. Pelletizing (also known as agglomeration) keeps the materials from going to the landfill and reduces greenhouse gases.
All our polyester scrap and extras, as well as many of our other materials, have been converted to pellets if a recyclable option is unavailable.

Repurpose
Modular designs are easier to recycle and repurpose into future displays, thus giving them a longer lifespan.
Let Us Know How We Can Help