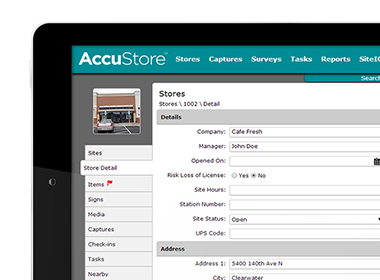 Store Profiling Technology
AccuStore®, GSP's proprietary store intelligence software, makes it easy to access real-time information about every aspect of your stores, anytime you want. Call it your own version of a central intelligence agency, where state-of-the-art site profile management provides you with store-level details that will improve your overall understanding of the differences between your locations and streamline your budget planning. Even when someone on your team is traveling, our powerful mobile app lets you take all of the site intelligence tools and market data with you, so you can stay one step ahead of the competition and take immediate action when you want. You'll also appreciate our store-level IQ feature that keeps track of your team's activities. You'll always know who is visiting what store when and can ensure each site is receiving appropriate attention.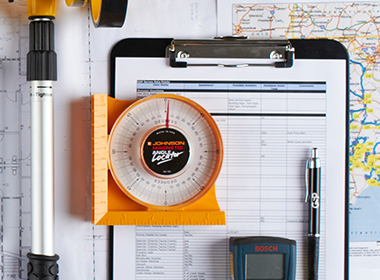 Professional Store Surveys
You need to know your stores well to drive execution. AccuStore can help. Our menu of cost-effective, technology-based solutions will allow you to not only improve store efficiency but also improve your marketing plans and your ROI. Our professional store survey team will start by giving you a comprehensive understanding of each location, from the equipment warranties to the exact dimensions of every wall and fixture. Once you have all the data compiled, we can help you safely house it and maintain its accuracy. We offer a subscription-based management service of your site profiles so you never need to worry about losing the information. And to help your stores achieve best-in-class status, AccuStore store scorecards can assist you in monitoring trends and analyzing critical store performance metrics.
---
Site specific kits provided by AccuStore improve efficiency and store-level execution
AccuStore surveyors first completed a thorough site survey so this grocery retailer could start with accurate, organized site data. The new site profiles made it easy to set up formulas for
site-specific, cost-effective POP campaign kits
and enabled marketing to print exactly what is needed by store size and location—saving time, costs and unnecessary waste.