GSP Brings Innovations in Visual Merchandising, Digital Displays & Store Renovations to NACS Show
Retail marketing company focused on store-level success

Clearwater, Fla., Sept. 25, 2023 – GSP announced today their plans for showcasing retail marketing innovations and award-winning retail environment services at the National Association of Convenience Stores (NACS) annual convention, NACS Show. This year, GSP will focus on products and services that convert fuel customers into shoppers and drive store-level success. This includes the latest in visual merchandising, digital display technology, and GSPs award-winning retail environments projects in Booth BC6333.
A new window mural system that doesn't require an installer. Designed for maximum impact, this display motivates shoppers and lifts sales.
Virtual tours of Retail Environments projects, including TXB, the "Chain of the Year," plus Delek and neighborMart.
Demonstrations of transparent monitors and dual-sided displays that integrate brand-right messaging from your workflow into your stores.
Plus, attendees will be able to set appointments to talk about their branding and renovations with GSP Design Services VP Margaret Sotrop. Chief Technology Officer Craig Hoss will be available for discussing monitors, content networks, content flow, and implementations across a chain.
To schedule an appointment with Craig or Margaret, visit us at gspretail.com/nacs.
"This year, our NACS Show booth packs a lot of information to help c-stores drive sales, save money by ensuring flawless execution, and delivering store-level results," said Dave Johnson, Chief Customer Officer. "The industry faces a lot of interesting transitions ahead with electrification, acquisitions, and menu-forward services. And to support that we know it's still about the basics…the right message, in the right site, at the right time, every time."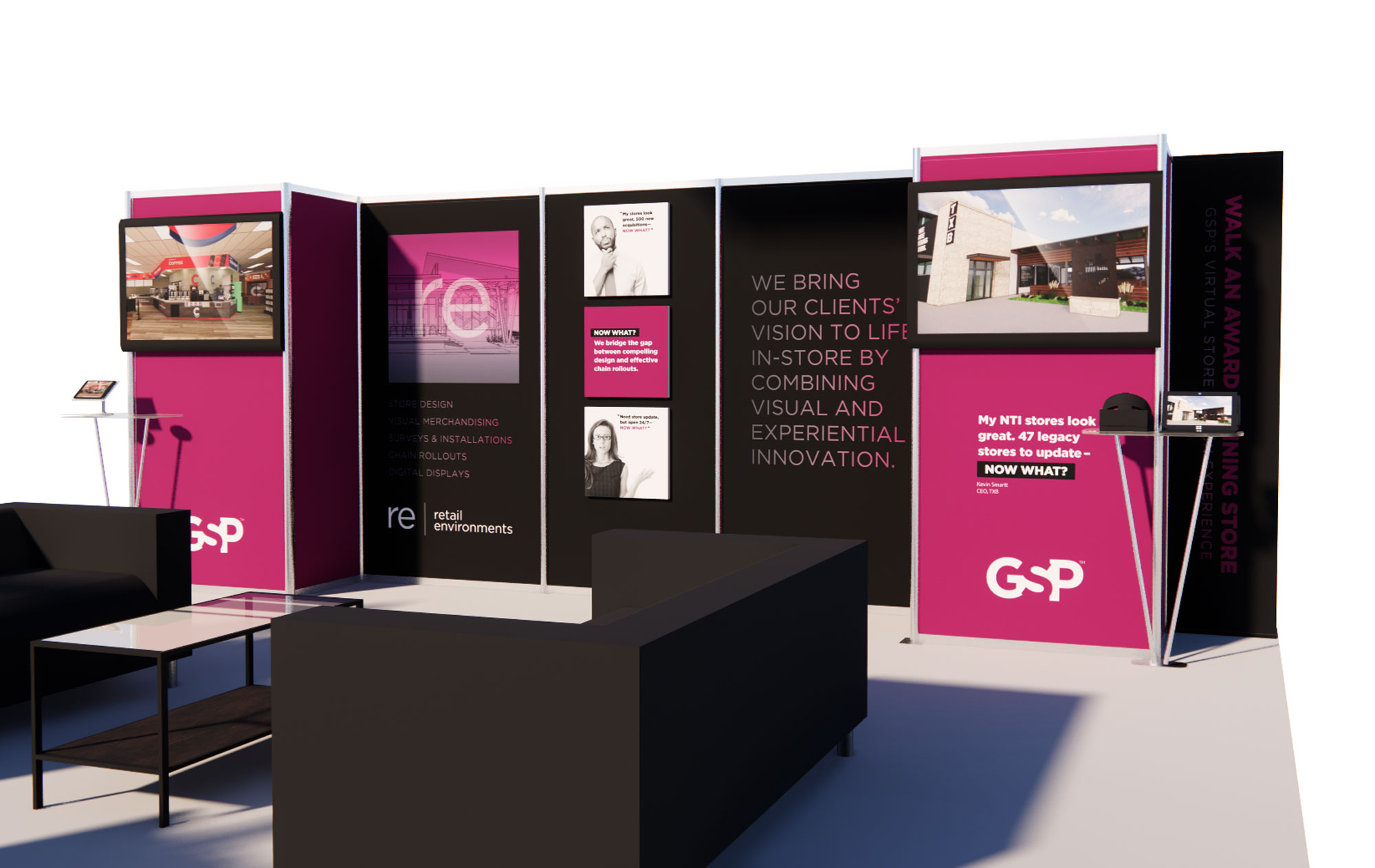 About GSP
GSP provides industry leading retail solutions that drive traffic, reduce costs, and enhance customer experience. GSP delivers 100% store-specific in-store marketing programs to more than 70,000 retail locations from its four G7 print and fulfillment facilities throughout the U.S. GSP also offers turnkey design, manufacturing and installation for full-scale store remodels and décor refreshes. GSP's award-winning design team supports retail environments, visual merchandising, photography, and graphics. Additionally, GSP's AccuStore® store intelligence technology maintains a single source of accurate site data to help retailers target their growth initiatives to the specific needs of each store. Founded in 1978, GSP's companies include Great Big Pictures and Custom Color, which supply graphics, visual merchandising, and retail execution to leading consumer and retail brands throughout the United States. For more information, visit gspretail.com.
Email: marketing@gspretail.com