Our NACS Agenda: Innovations to Build Store-Level Success
SEPTEMBER 27, 2023 BY MARGARET SOTROP – This year, GSP focuses on products and services that convert fuel customers into shoppers and drive store-level success. We're presenting our latest in visual merchandising, digital display technology, and GSP's award-winning retail environments projects in Booth BC6333.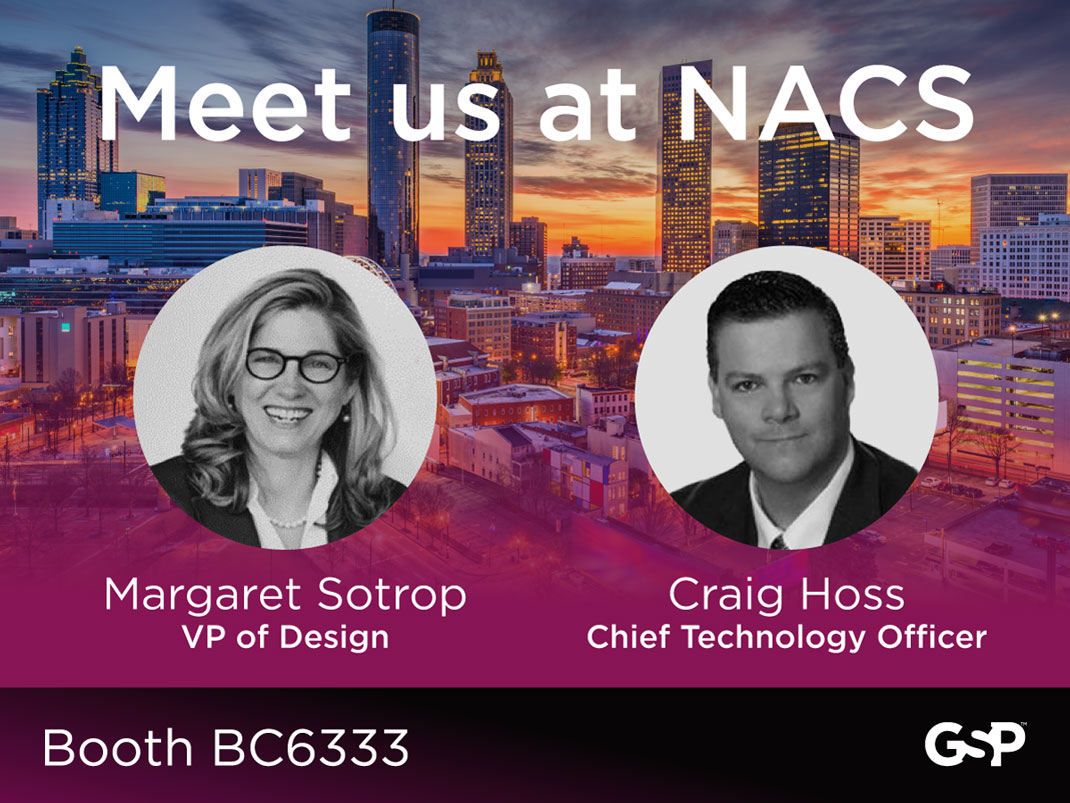 To be revealed at the show, the GSP visual merchandising store lab developed a window mural system that enables retailers to roll-out large, multi-window murals to their stores without the time and cost of hiring an install team. We will demonstrate how our new frame enables anyone to pop-in lightweight fabric graphics to promote large-scale food images and other key traffic-driving messages. As the labor market continues to challenge retailers with accomplishing more and improving customer service, we're providing solutions to help retailers meet those challenges to reach and motivate shoppers.
In Booth BC6333, the GSP Retail Environments team will be presenting their ideas on how to create memorable brand interactions between shoppers and retailers, through design. We'll be leading virtual reality tours of recently completed NTIs, including Texas Born in Cottonwood Shores, with mobile ordering and order pickup lockers. TXB has been named "2023 Convenience Store Chain of the Year" by "CStore Decisions," an industry publication, and we are celebrating our colleagues' significant industry recognition.
Other NTIs we're showing will demonstrate the design process, and how we bring a retailer's vision to life, from idea to concept to render to reality. This includes neighborMart by Gasland in New York's Hudson Valley, Delek in Texas, and Arkansas, and additional TXB stores.
Advances in high brightness screens have resulted in digital signage that can drive traffic from the pumps into the stores. We will be showcasing two styles of monitors that, when equipped with the proper content, can drive traffic. The latest double-sided monitors are designed for being viewed inside the store, and outside the store simultaneously, with different content on each side. We'll also demonstrate a see-through monitor that creates high-impact experiences, designed to inform, and activate shoppers.
Most importantly, we will be on the show floor to discuss your growth strategies and how to bring them to life in stores. Chief Technology Officer Craig Hoss will answer your questions about digital monitors, store deployments, networks, content management and more. I will be available to discuss new store builds, renovations, branding and retail marketing. To schedule an appointment with Craig or me, contact us here.
Our NACS Show booth packs a lot of information to help c-stores drive sales, save money by ensuring flawless execution, and delivering store-level results. This is our favorite time of the year to touch base with our clients, colleagues, and competitors, celebrate our clients' successes like TXB, and explore new ideas in an exciting industry.