MARGARET SOTROP AND NATALIE SABIN NOMINATED FOR TOP WOMEN IN CONVENIENCE AWARDS BY TRADE MAGAZINE
Clearwater, Fla., May 24, 2023 – GSP announces that two of the company's vice presidents, Margaret Sotrop and Natalie Sabin, have been nominated for "Top Women in Convenience Awards" by Convenience Store News. The nominees were chosen by their peers for their innovative corporate initiatives, astute problem-solving acumen, exceptional performance, mentorship work and its outcome for mentees, along with other criteria. Awards will be presented at the National Association of Convenience Stores (NACS) convention in Atlanta on October 4, 2023.
As Vice President of Design at GSP, Margaret oversees a team of award-winning artists who support brand development, store design and campaign marketing for leading brands in convenience, foodservice, and specialty retail.  Margaret has led the development of GSP's Retail Environments offering, which brings retail remodeling experts' design, construction, and installation knowledge to a broad range of projects, focusing on the convenience store industry.
Natalie Sabin is Vice President, National Accounts at GSP. She has been nominated for her mentoring skills, in addition to her account management expertise. Natalie oversees a customer service team managing in-store marketing programs for leading Fashion, Athleisure, Foodservice and Convenience retailers. In addition to mentoring her own team, she's known for working and guiding other managers as they mentor their proteges as well. Natalie has also become a leading voice in efforts to make in-store graphics programs more sustainable, pioneering an innovative program through which a retailer's graphics are converted to fuel pellets.
"We are honored to work with Margaret and Natalie and grateful to CS News for recognizing their accomplishments," said Geoff Neuhoff, Chief Executive Officer of GSP. "Both Margaret and Natalie have built reputations within the industry for their innovative approaches to retail marketing, and problem-solving skills that provide exceptional impact and drive value for our clients."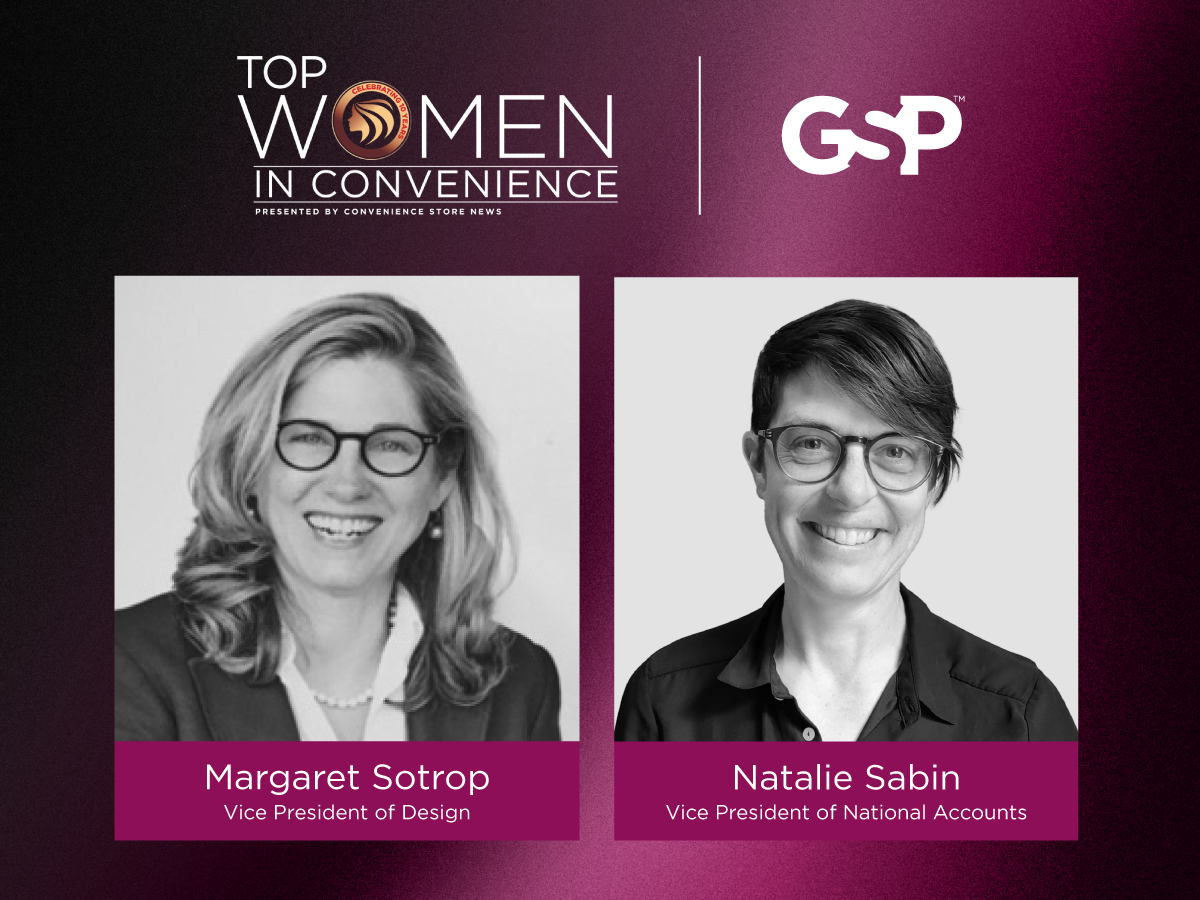 About GSP
GSP provides industry leading retail solutions that drive traffic, reduce costs, and enhance customer experience. GSP delivers 100% store-specific in-store marketing programs to more than 70,000 retail locations from its four G7 print and fulfillment facilities throughout the U.S. GSP also offers turnkey design, manufacturing and installation for full-scale store remodels and décor refreshes. GSP's award-winning design team supports retail environments, visual merchandising, photography, and graphics. Additionally, GSP's AccuStore® store intelligence technology maintains a single source of accurate site data to help retailers target their growth initiatives to the specific needs of each store. Founded in 1978, GSP's companies include Great Big Pictures and Custom Color, which supply graphics, visual merchandising, and retail execution to leading consumer and retail brands throughout the United States. For more information, visit gspretail.com.
Email: marketing@gspretail.com