GSP PROMOTES SABIN, DORION TO VICE PRESIDENT POSTS
Industry veterans lead customer service retail marketing teams


Clearwater, Fla., Jun. 1, 2023 – GSP announces that Natalie Sabin and Greg Dorion have been promoted to the roles of Vice President, National Accounts. Both are longtime executives in the retail marketing field.
Natalie Sabin started her career at Great Big Pictures, in large format print production, before it became a GSP company. After nine years in different roles with increasing responsibilities, she was promoted to Director of Production. In 2013, Natalie parlayed her production experience into business development and sales, most recently as Director of National Accounts at GSP. Now, she oversees a customer service team that drives value through in-store marketing programs for leading fashion, athleisure, foodservice and convenience retailers. Natalie has also become a leading voice in efforts to make in-store graphics programs more sustainable, pioneering an innovative program through which a retailer's graphics are converted to fuel pellets.
Greg Dorion has worked at GSP for almost 30 years. He started his career in production and played a key role in the company's adoption of numerous new technologies to deliver POP programs more efficiently. As GSP grew, Greg moved into customer service roles, working as customer service manager and then regional manager. Most recently, he's served as Director of National Accounts. Greg oversees a customer service team that focuses on marketing programs that drive value for convenience retailers.
"Natalie and Greg bring deep knowledge across all retail marketing disciplines," said Dave Johnson, Chief Customer Officer. "Their capacity to provide sage advice on converting shoppers into spenders is beyond reproach."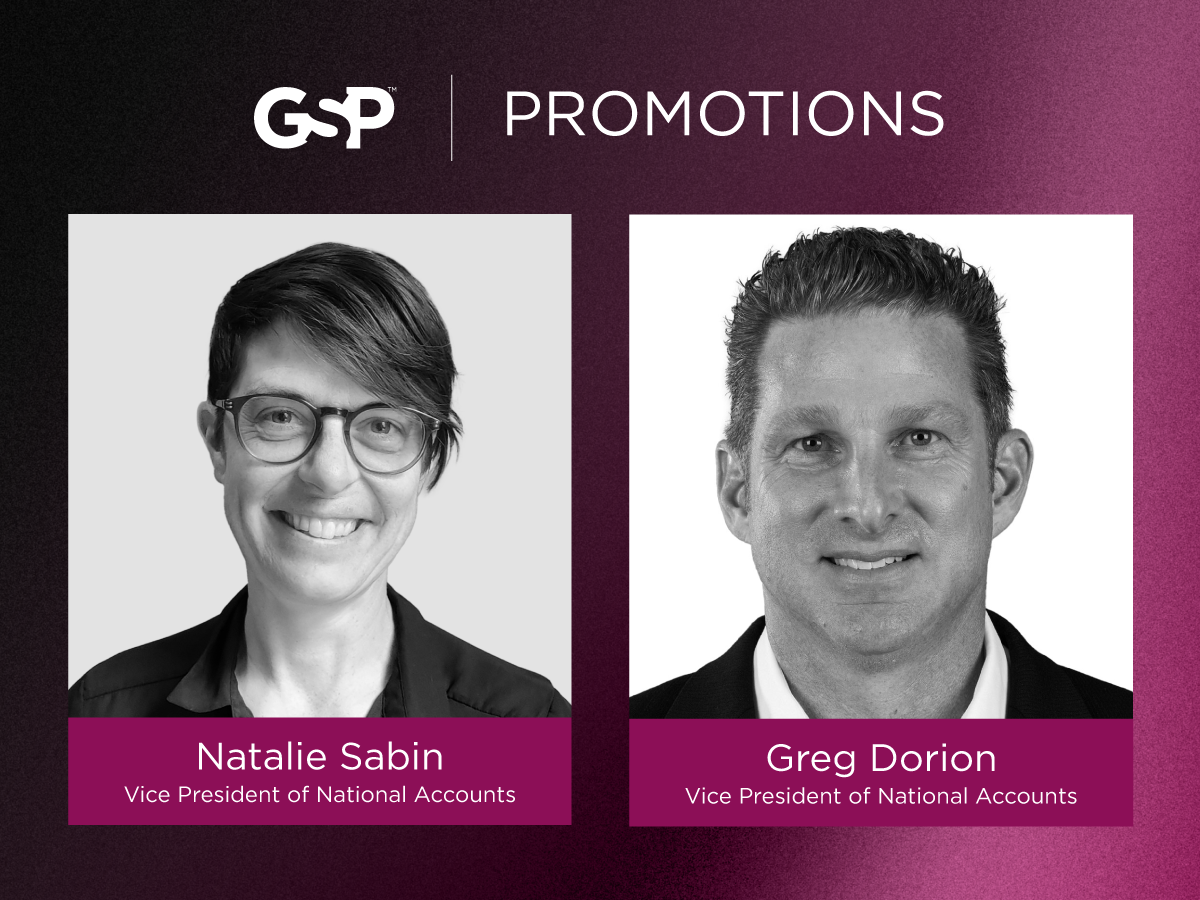 About GSP
GSP provides industry leading retail solutions that drive traffic, reduce costs, and enhance customer experience. GSP delivers 100% store-specific in-store marketing programs to more than 70,000 retail locations from its four G7 print and fulfillment facilities throughout the U.S. GSP also offers turnkey design, manufacturing and installation for full-scale store remodels and décor refreshes. GSP's award-winning design team supports retail environments, visual merchandising, photography, and graphics. Additionally, GSP's AccuStore® store intelligence technology maintains a single source of accurate site data to help retailers target their growth initiatives to the specific needs of each store. Founded in 1978, GSP's companies include Great Big Pictures and Custom Color, which supply graphics, visual merchandising, and retail execution to leading consumer and retail brands throughout the United States. For more information, visit gspretail.com.
Email: marketing@gspretail.com