GSP Accelerates Growth and Expands Textile Printing Capabilities With EFI Reggiani ReNOIR PRO 340 Printer
Leading retail service provider adds high-performance industrial digital textile printer to its Kansas facility.


Clearwater, Fla., Oct. 12, 2021 – GSP Retail, a leading provider of end-to-end retail services and solutions, continues to drive growth with the addition of an EFI Reggiani ReNOIR PRO 340 to its Kansas facility.
"This recent installation drives our ability to be responsive to our customers rapidly changing needs as well as meet the increasing demand for fabric displays and high-density backlit signage," said GSP Senior Director of Operations Mike Lecus. "The Reggiani's industry-leading quality and best-in-class throughput is a truly dynamic addition to our operations."
Ideal for banners, flags, soft signage, and Silicone Edge Graphics (SEG), the Reggiani ReNOIR PRO 340 offers versatile and productive printing with impressive image quality. The eight-color printer has 16 ink channels with drop sizes of 4-72pl and can print at resolutions of up to 2,400dpi. The PRO 340 can print on polyester, cotton, cotton-linen, polyamide, viscose, and wool textiles from 30 to 450gsm at speeds of up to up to up to 8,611 ft2/hr (800 m2/hr).
Fabric-printed displays and signs have become increasingly popular with chain stores nationwide. The pieces are lightweight, sustainable, and fold up easily, reducing the energy and costs associated with freight.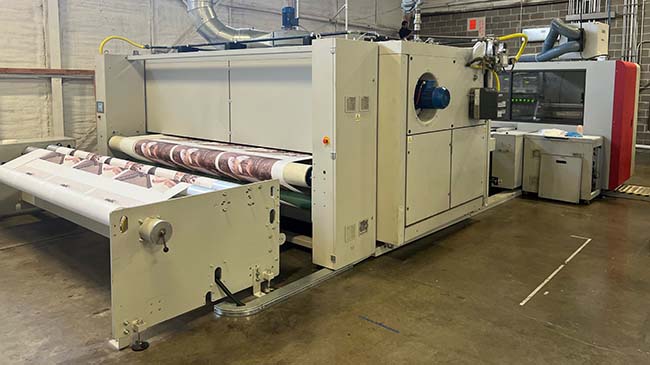 About GSP
Founded in 1978, GSP provides industry leading retail solutions that drive traffic, reduce costs, and enhance customer experience. GSP delivers 100% stores-specific in-store marketing programs to more than 70,000 retail locations from its four G7 print and fulfillment facilities throughout the U.S. GSP also offers turnkey design, manufacturing and installation for full-scale store remodels and décor refreshes. GSP's award-winning design team supports visual merchandising, photography and graphics. Additionally, GSP's AccuStore® store intelligence technology maintains a single source of accurate site data to help retailers target their growth initiatives to the specific needs of each store. For more information, visit gspretail.com.
Email: marketing@gspretail.com