ELAINE SCRIMA RECOGNIZED FOR INDUSTRY INNOVATION
PRINTING United Alliance inducts VP into Ben Franklin Honor Society


Clearwater, Fla., July 10, 2023 – GSP announced today that Elaine Scrima, Vice President of Operations, has been recognized again for her innovations and professional contributions to the printing industry. PRINTING United Alliance, the most comprehensive membership based printing and graphic arts association in North America announced her induction into its most selective group.
The Ben Franklin Honor Society recognizes individuals who have made significant contributions to the advancement and betterment of the printing and graphic communications industry through meritorious service. Among Elaine's many contributions, she is known for being on the forefront of promoting opportunities for women in the printing and graphics industry and being a partner to suppliers and trade organizations supporting Print.
Elaine oversees operations at four printing and fulfillment plants, where she leverages technology to reduce lead times, transit costs and carbon footprints for major national accounts with complex fulfillment requirements.
"Our industry is truly lucky to have a leader like Elaine," said Geoff Neuhoff, Chief Executive Officer of GSP. "Her tireless support of our customers and her team and passion for innovation have been a true inspiration to those who have worked with her."
"We are proud to recognize the individuals joining the prestigious Ben Franklin Honor Society this year and applaud their efforts for their countless years of service and contribution to the industry," says Ford Bowers, CEO, PRINTING United Alliance in a press release. "This historical designation is very much a coveted accolade and those receiving it are most worthy. We thank them for all they have done and continue to do."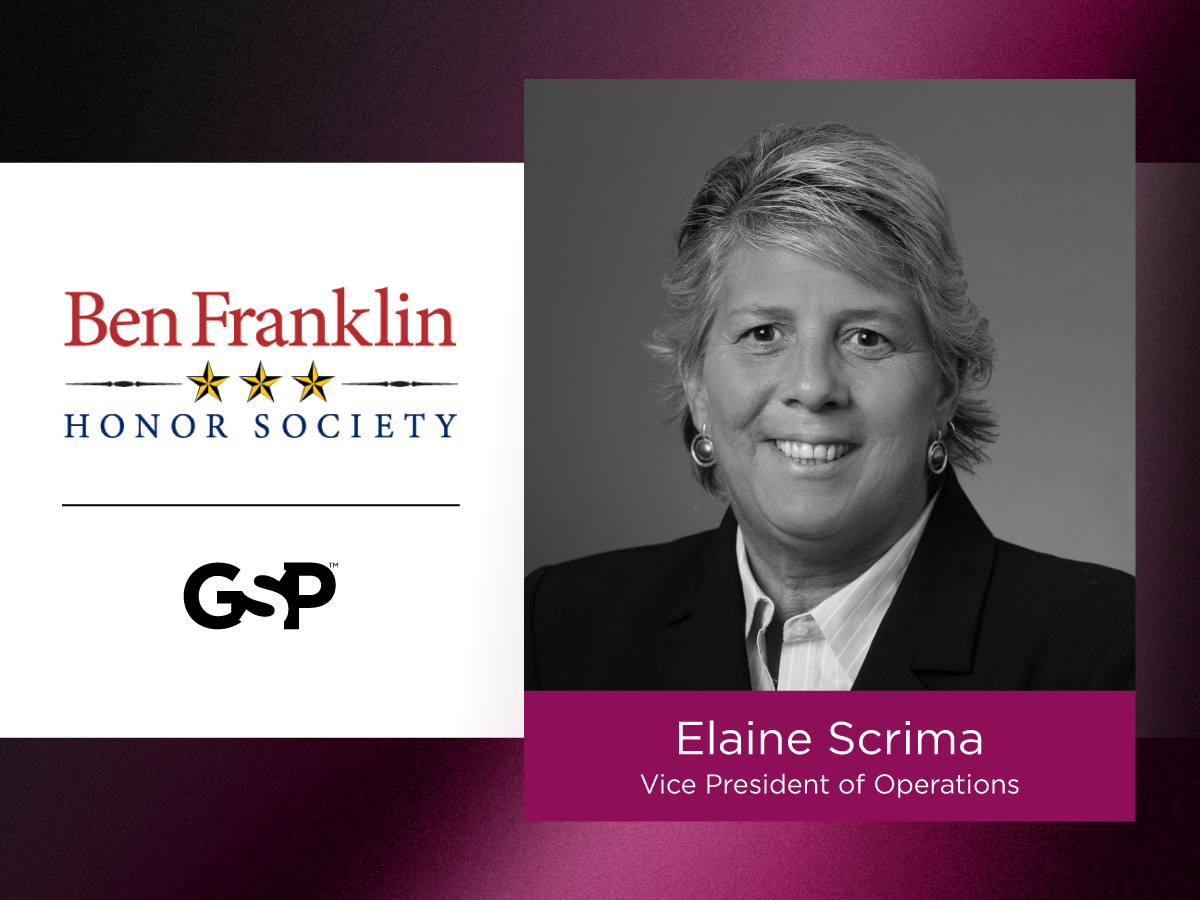 About GSP
GSP provides industry leading retail solutions that drive traffic, reduce costs, and enhance customer experience. GSP delivers 100% store-specific in-store marketing programs to more than 70,000 retail locations from its four G7 print and fulfillment facilities throughout the U.S. GSP also offers turnkey design, manufacturing and installation for full-scale store remodels and décor refreshes. GSP's award-winning design team supports retail environments, visual merchandising, photography, and graphics. Additionally, GSP's AccuStore® store intelligence technology maintains a single source of accurate site data to help retailers target their growth initiatives to the specific needs of each store. Founded in 1978, GSP's companies include Great Big Pictures and Custom Color, which supply graphics, visual merchandising, and retail execution to leading consumer and retail brands throughout the United States. For more information, visit gspretail.com.
Email: marketing@gspretail.com