Visual Merchandising Holiday Insights From GSP's Experts
AUGUST 16, 2021 BY MARGARET SOTROP – Captivating the attention of busy holiday shoppers and differentiating yourself amongst other retailers is key. And what better time than the holidays to take advantage of creative visual merchandising such as unique store windows and other festive retail décor and displays. Yes, many shoppers take the online holiday shopping route, however in-store sales accounted for more than 80% of total holiday sales in 2018 and 124 million holiday shoppers visited stores during the 2019 Black Friday weekend.
Over the years, GSP's visual merchandising professionals have designed a variety of unique holiday graphics and displays for its retail clients. Check out these helpful holiday insights from two veterans of GSP's Visual Merchandising team – Jake Leick, director, visual merchandising and retail environments and Aaron Lisowe, visual merchandising art director.
Create a Holiday Sales Lift With LED Lighting
Whether flickering or simply glowing, an easy way to stop holiday shoppers in their tracks is with customized LED lighting or signage. "LED signage is always an effective way to grab shoppers' attention," suggested Jake.
"I agree! LED and shiny is the way to go for holiday displays," added Aaron. "Fashion clients often prefer shiny stuff for the holidays. They often request glittery or metallic surface materials. One client asked about doing a faux neon sign, which again goes back to the idea of using LEDs to catch shoppers' attention," said Aaron. "We've prototyped a few holiday projects this year and have seen a lot of LED. One featured a white LED-lit podium and bars another was holographic shiny ornaments."
Shimmer and Shine Holiday Retail Design Trends
Gold and silver continue to shine in stores every holiday season say the design pros. "For the past few years, holiday [display marketing] has either been big on gold or silver cardstock with an occasional splash of red," described Aaron.
Develop Sustainable Retail Design
"Silicone edge graphics (SEG) are always a hit with retail stores," said Aaron. SEG creates a seamless, bold, and modern look. Retailers can select non-lit or backlit options and create fantastic displays for holidays or anytime.
"If seeking metallic shimmer and sustainability, Alchemy is a great option. It's a double-sided blackout fabric featuring a metallic luster, and unlike metallic vinyl, Alchemy is made of 100% polyester so it can be repurposed," explained Jake. A recyclable paper-based alternative to foam core is Board Corrugate or DISPA® Board, a fully recyclable graphic display board.
Sparkle and Stand Out on a Budget
For smaller retailers seeking affordable holiday in-store displays, "Printed ornaments on flat materials hang nicely and look great in stores. Using special vinyl mounted to a rigid substrate like metallic or iridescent vinyl on PETG (a Glycol Modified version of Polyethylene Terephthalate), helps make things pop without breaking the bank," suggested Jake.
Handmade for the Holidays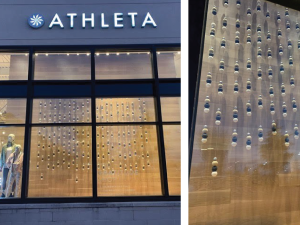 Last holiday season, Athleta was looking for a unique, eye-catching effect for its store windows. "To achieve this colorful, eco-friendly window concept, artisan pom-poms were used to create festive strands of garland," described GSP Senior Account Manager Daniella Chong. "Each pom-pom was made by hand and the strands are custom to the colors requested by Athleta."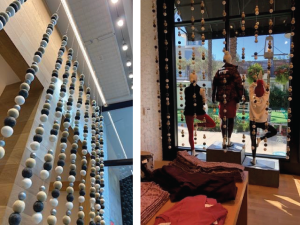 Completely handmade by Nepali women, the soft pom-poms are crafted by rubbing the wool rounds with soap and hot water. The felt balls are then rolled into various sizes and colors. Each pom-pom is attached to a string making up the decorative strands.
Whether looking to drive sales with creative seasonal window visuals or everyday display propping, motion and lit elements, fixture design and more, GSP can help bring your merchandise to life. Contact us for additional ideas.