3 IDEAS TO TAKE YOUR NEW BRAND INTO YOUR LEGACY STORES
AUGUST 4, 2023 BY MARGARET SOTROP – Before renovating your acquisitions, you need to develop a brand. Deploying your new brand in your revamped stores means taking it from the designers' computer screens to the bricks and mortar. Your brand needs to be appropriate for the communities your stores serve, and created to be successfully executed.
Your customers need to be able to relate to your store since it is an important part of your community. It is a complex process and at GSP, we've developed a method for bridging the brands between old and new.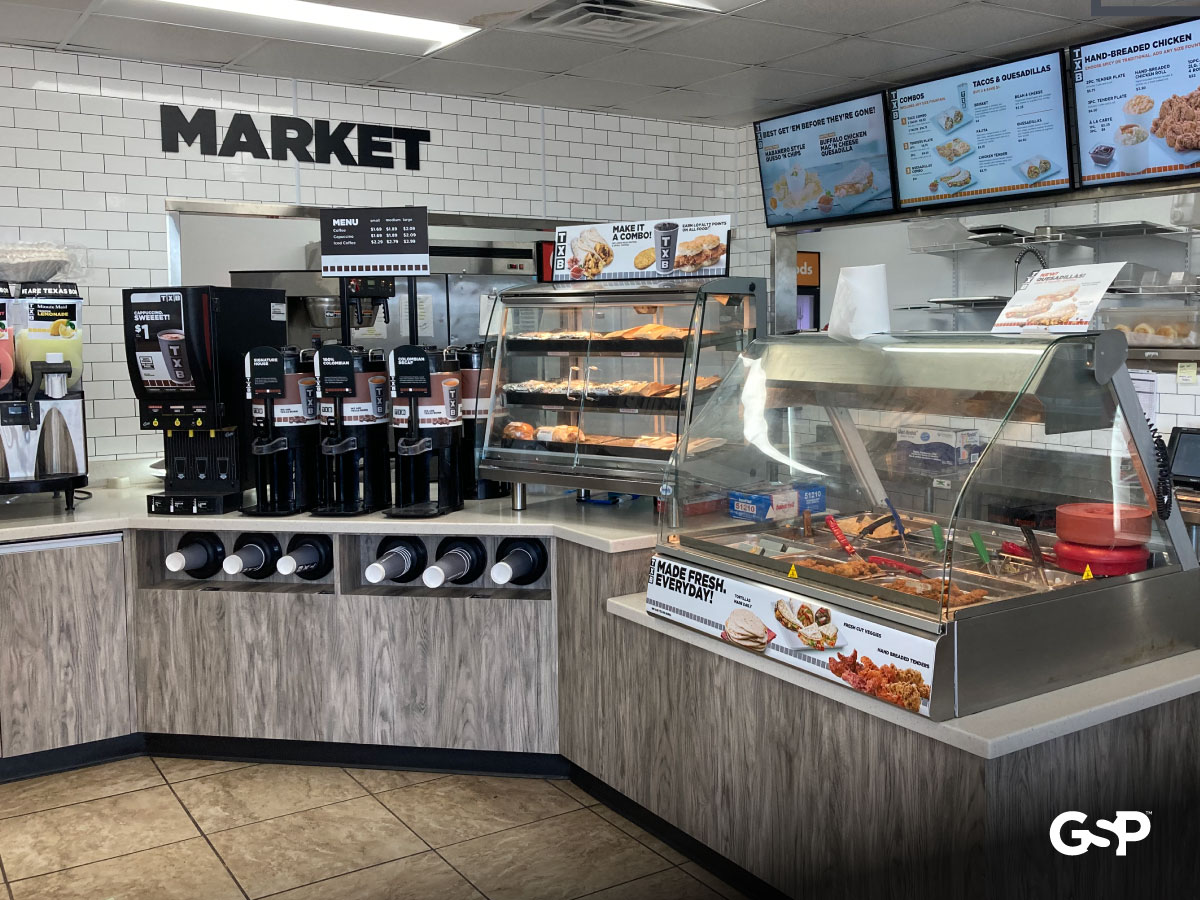 Define your key branding elements that help shoppers identify where they are. When they see these elements, they know they can trust the store for customer service and quality of products. This is particularly important as c-stores transition into fresh foods.

Specify your décor elements, such as wayfinding signs and wall treatments, that are suitable for your legacy stores. Different stores will require different budgets, based on foot traffic and location. Know which décor elements are appropriate for which locations.

Use 3D rendering technology to pre-create and pick the right amount of décor elements for the different footprints of stores you've acquired. It's cheaper and easier than developing the wrong size décor elements and then attempting to install them across the chain, only to wind up with poor results.


It's important that your rebranding efforts are consistent throughout your store chain, inside and out. Don't attempt to do it on your own. GSP designs living, breathing retail spaces with branding, merchandising and décor in mind. Our retail design team includes retail and design leaders with a passion for innovation in retail décor, in-store marketing, foodservice marketing and customer experience. That's one way we make retail better. Call us today.


About GSP Retail Environments
GSP brings our clients' vision to life in-store by combining visual and experiential innovation with best-in-class decor manufacturing and installation expertise. We transform retailers' new store and remodeling plans into store level success through a focus on our retailers' sales and operational goals, and a passion for creating powerful retail environments. Our team of retail remodeling veterans bring design, construction, and installation expertise to a broad range of projects. For more information, visit gspretail.com/retail-environments.