GSP and ampm Update Dodgers & Mariners Stadium Stores
Speedy checkout systems reduce lines, boost seat time for fans
Clearwater, Fla., August 29, 2023 – GSP teamed up with ampm to renovate and install branding for the retailer's convenience store located at T-Mobile Park, where the Seattle Mariners play Major League Baseball. The renovated store opened in June. GSP designed and installed a new convenience store space for ampm at Dodgers Stadium in May.
The branding and design services includes logos and colorways, retail environment design, visual merchandising and décor. The criteria that ampm set included representing the culture of Seattle, reflecting the modern aesthetic of the stadium, and being easy for sports fans and event-goers to identify it as an ampm store. At Dodger Stadium, the challenge was to create an appropriate design for the venerable location.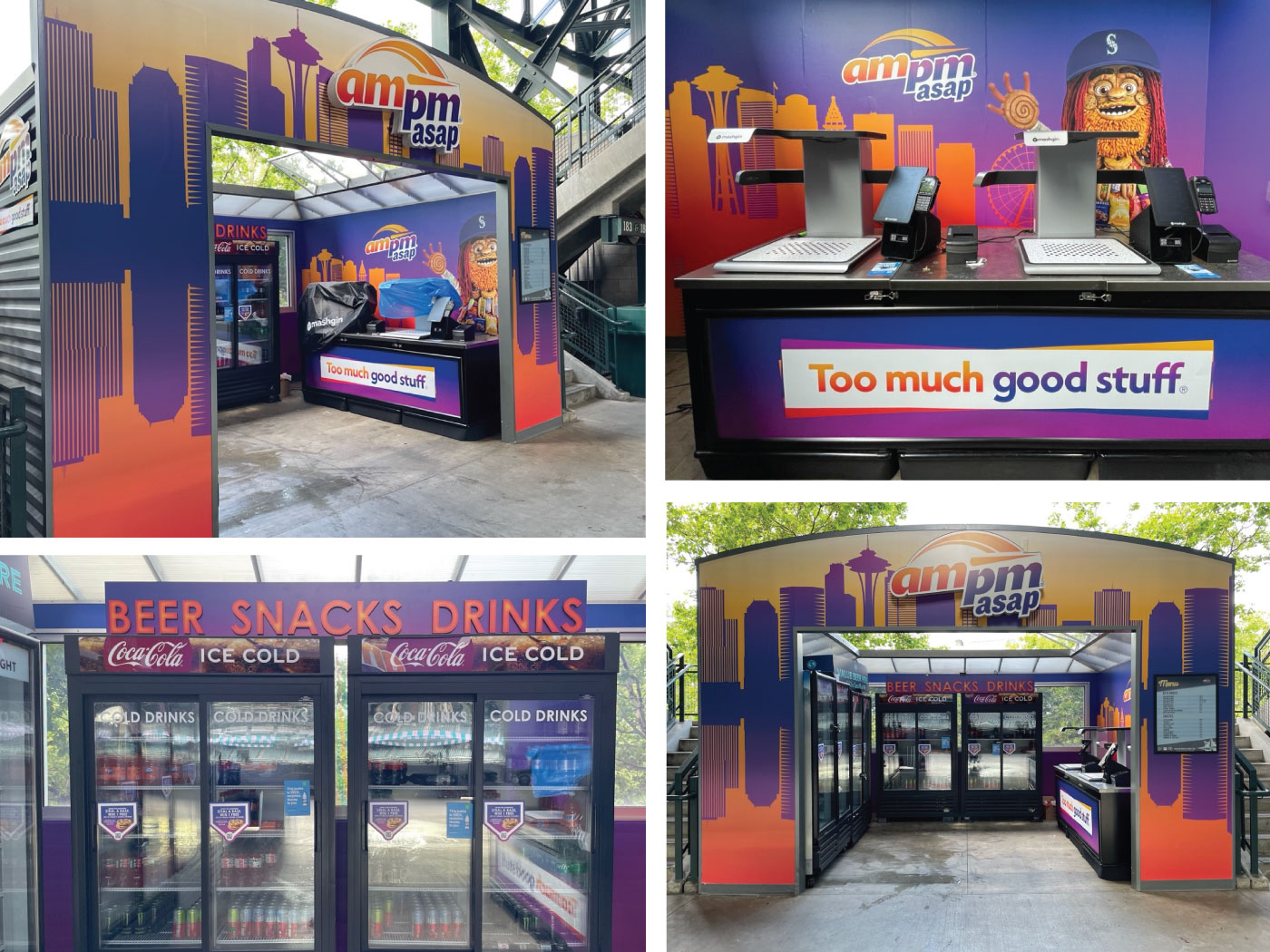 The ampm stadium convenience store at T-Mobile Park features a "grab & go" purchase system. Sports fans and eventgoers can scan their chip-enabled debit or credit cards, select their items, and scan them under a transaction payment device. Retail associates verify ages for beer and wine sales. Other beverages and snacks are available too. Convenience, speed and accuracy are important to fans as they don't want to miss the event while they're away from their ticketed seats. Branding, innovation and driving sales are important to the retailers.
The store is located in Section 183 of the stadium and was recently lauded by the Seattle Times as a location with "cheap beers and snacks."
It's the second stadium store that GSP and ampm have collaborated on. The first was the newly renovated c-store at Dodger Stadium in Los Angeles, which opened in May 2023. The ampm mascot, Toomgis appears as a standee, and is very popular with sports fans and customers.
"You guys (GSP) really knocked this out of the park! Looks absolutely gorgeous and gives the space such a fresh feeling," said Joanna Kennedy, Brand Manager, Content Strategy at Apex Systems, regarding the T-Mobile Park installation.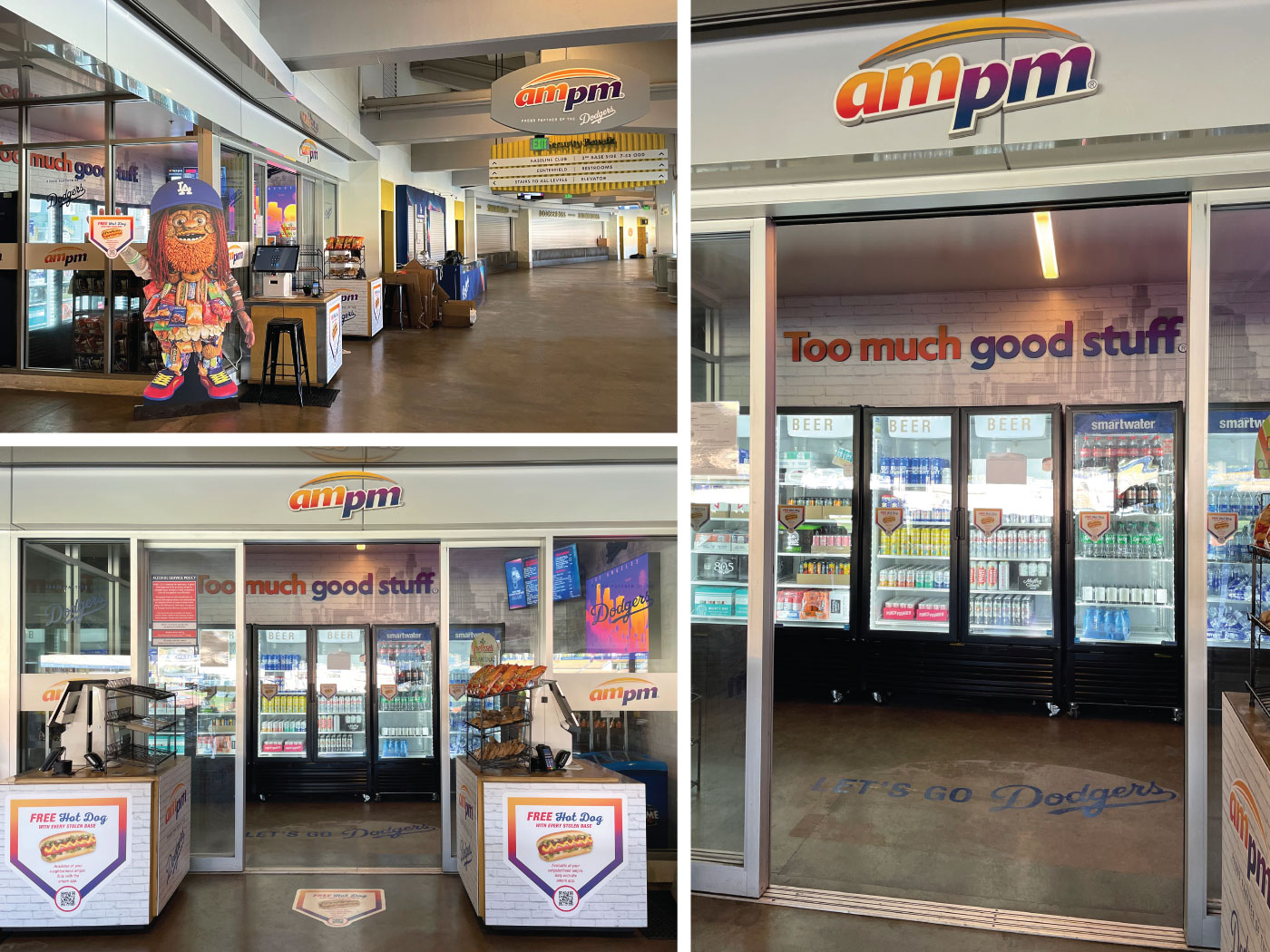 About GSP
GSP provides industry leading retail solutions that drive traffic, reduce costs, and enhance customer experience. GSP delivers 100% store-specific in-store marketing programs to more than 70,000 retail locations from its four G7 print and fulfillment facilities throughout the U.S. GSP also offers turnkey design, manufacturing and installation for full-scale store remodels and décor refreshes. GSP's award-winning design team supports retail environments, visual merchandising, photography, and graphics. Additionally, GSP's AccuStore® store intelligence technology maintains a single source of accurate site data to help retailers target their growth initiatives to the specific needs of each store. Founded in 1978, GSP's companies include Great Big Pictures and Custom Color, which supply graphics, visual merchandising, and retail execution to leading consumer and retail brands throughout the United States. For more information, visit gspretail.com.
Email: marketing@gspretail.com