ELAINE SCRIMA, VP OF OPERATIONS AT GSP, APPOINTED TO PRINTING UNITED ALLIANCE BOARD
Clearwater, Fla., Dec. 6, 2022 – Elaine Scrima, Vice President of Operations of GSP, has been appointed to the position of board member of Printing United Alliance, a trade association built by and for printers and professionals in the industrial, graphic, garment, textile, electronics, packaging, and commercial printing markets. Scrima oversees GSP's four production and fulfillment facilities located in Clearwater, FL; Provo, Utah; Lenexa, KS and Madison, WI. Scrima has served on the PUA board for many years.
"PUA plays such an important role in driving innovation in print," Scrima said. "It is incredibly rewarding to collaborate with others who care so much about the growth of our industry."
"Elaine has mentored and inspired so many of GSP's leaders over the past 26 years. I cannot think of anyone better to advocate for our industry and for our customers." said CEO Geoff Neuhoff.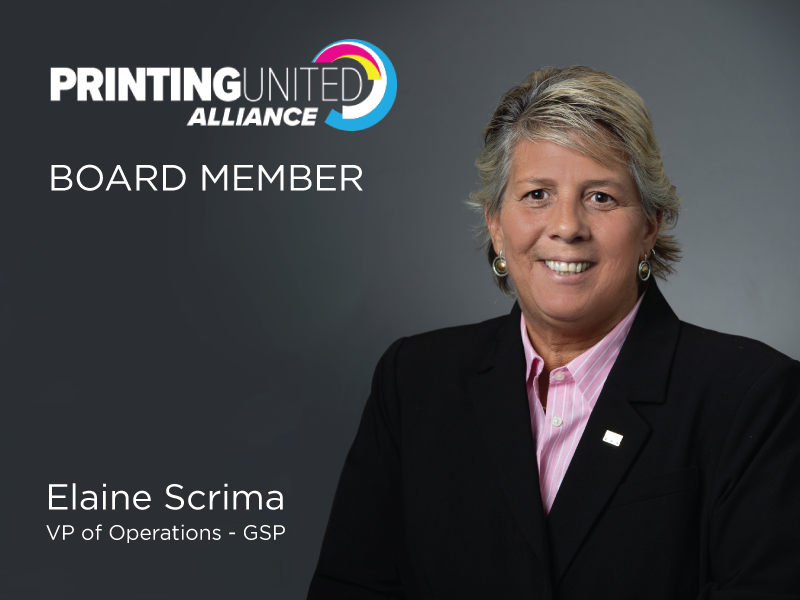 About GSP
GSP provides industry leading retail solutions that drive traffic, reduce costs and enhance customer experience. GSP delivers 100% store-specific in-store marketing programs to more than 60,000 retail locations from its four G7 print and fulfillment facilities throughout the U.S. GSP also offers turnkey design, manufacturing and installation for full-scale store remodels and décor refreshes. GSP's award-winning design team supports retail environments, visual merchandising, photography and graphics. Additionally, GSP's AccuStore® store intelligence technology maintains a single source of accurate site data to help retailers target their growth initiatives to the specific needs of each store. Founded in 1978, GSP's companies include Great Big Pictures and Custom Color, which supply graphics, visual merchandising and retail execution to leading consumer and retail brands throughout the United States. For more information, visit gspretail.com.
Email: marketing@gspretail.com