Tips to Maximizing Retail Space
December 6, 2018 by Steven Cohen – Space is a critical component in the retail environment. It's more than where your category managers display their inventory. It's where your customers make their buying decisions. Are you making it easy for them? Are you using your space as wisely as you could? Or could your products be merchandised in the same space with more efficient fixtures? We have some VM tips to help you maximize the space you have and make your store a visually compelling place to shop.

Your Shelving Strategy
Think security. Is there anything as intimidating as the long walk down a narrow row of gondolas in order to find the one item you need? Women, in particular, name security as their top concern when shopping c-stores. If they can't see over the top of the gondola to the back of the store, they may not venture down the aisle.

Think newness. Consider breaking up the long aisles with a couple of quad fixtures. Unlike a cardboard shipper, this is a permanent merchandising solution that won't look beat up after two weeks on the floor. Quads are shorter – maybe four feet tall – so they're great for addressing security concerns. Also, your customers will be able to spot your beer cave from the front of the store. Quads neatly contain one merch category, so your customers can find items quickly. They can be produced with wheels to allow for even more flexibility with your space management.

Think "first to shelf." There are approximately 30,000 new consumer products launched every year. Do your shoppers see you as being the c-store with the most exciting new products? Consider using different fixtures as part of your strategy for highlighting new flavors and new brands across different categories. A dedicated quad, endcap or even a topper helps to showcase items and presents a visual signal to the customer to try something new.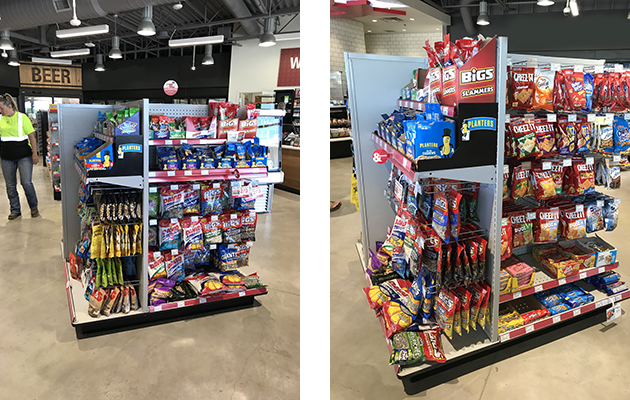 Beverage Counter Space
Do your customers have the room they need to customize their hot beverages? If your fountain equipment and coffee makers eat up a lot of space, consider going with a deeper, four-foot cabinet. Cup holders underneath store your different-sized cups. Use racks to corral your lids, condiments, straws and stir sticks. This will keep the area neat and provide room for your customer to create his drink of choice.


Queue Management
Create a better queue and checkout experience for your customer with fixtures. Borrow one of the most effective queue management ideas from T.J. Maxx, which uses modular fixtures to form a neat path lined with impulse buy suggestions to the captive audience. Studies show that converting to a single-queue checkout can increase last-minute purchases up to 400%. More than 80% of customers surveyed by TimeTrade Systems say they're open to making unplanned purchases and often buy more than intended when shopping. A new, merchandised queue line layout can expose customers to low-price, high-margin, add-on items. Remove any items blocking the view to make sure your employees have a clear line of sight to the back of the store. More fixtures in the queue can help you keep the counter space clear, too. Your customers need room to put down their merchandise so they can reach for their wallets.


Want to learn more about how visual merchandising can improve the shopping experience? Contact us.