GSP Upgrades Website to Showcase "Store-level Success"
Company's 3 lines of business, sustainability and AccuStore® featured 
Clearwater, Fla., August 22, 2023 – GSP announced today the company has launched a new web site featuring the store-level impact of GSP's design, manufacturing and technology offerings. 
The web site showcases the success of GSP in Retail Environments, including high-impact branding and store design at new-to-industry stores including TXB, neighborMart, Delek and more. GSP also explains the process to create an award-winning brand-forward retail environment that lifts sales and delights shoppers. 
The Retail Marketing section of the web site explains how GSP has been at the forefront of supporting retailers' growth strategies through design, print, automation with AccuStore®  and production. The company's industry-leading logistics methods of store-specific fulfillment and optimized distribution methods are also covered, along with how the company's retail intelligence platform, AccuStore® optimizes the company's services to drive value for customers.  
The Retail Execution section of the web site looks at the basis of successful marketing, and how it starts with a foundation of data to help retailers make sound decisions. The sections include building a store profile, store surveys and 3D scans, and how retailers can benefit from a virtual store walkthrough. It also covers the in-store communication process with AccuStore® Mobile. 
The company's position on Sustainability merits its own section. GSP packs sustainability into every order by reducing waste and freight-created carbon footprints. GSP ships orders the shortest distance possible from one of the company's four nationwide fulfillment centers. Shipping lighter boxes shorter distances reduces pollution and saves money for retailers. 
"We are very proud of the role we play in making our customers' growth strategies come to life in stores," said Geoff Neuhoff, CEO. "This new website gives us a chance to showcase our work in stores and to celebrate the team, technology and service platform that we have built."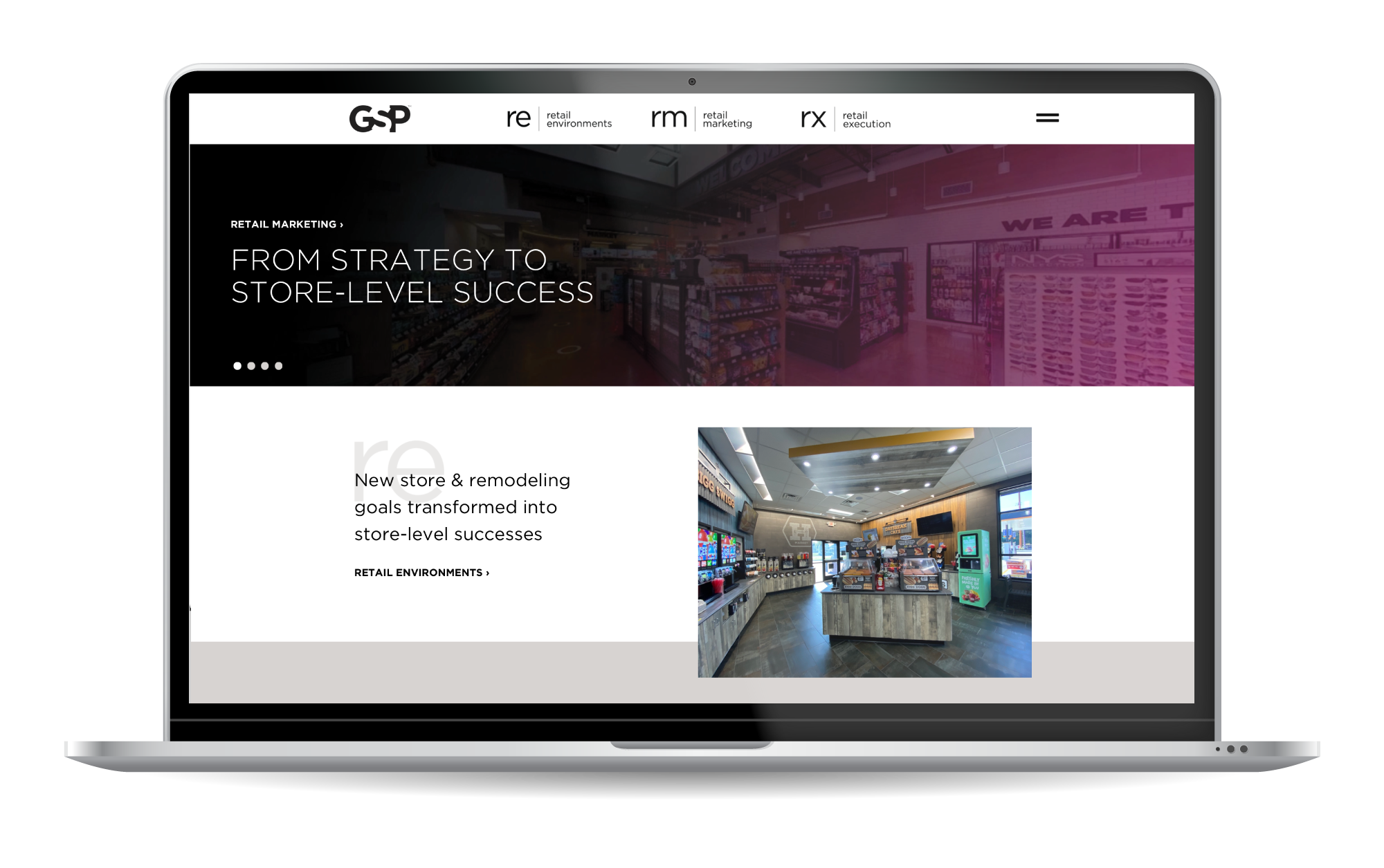 About GSP
GSP provides industry leading retail solutions that drive traffic, reduce costs, and enhance customer experience. GSP delivers 100% store-specific in-store marketing programs to more than 70,000 retail locations from its four G7 print and fulfillment facilities throughout the U.S. GSP also offers turnkey design, manufacturing and installation for full-scale store remodels and décor refreshes. GSP's award-winning design team supports retail environments, visual merchandising, photography, and graphics. Additionally, GSP's AccuStore® store intelligence technology maintains a single source of accurate site data to help retailers target their growth initiatives to the specific needs of each store. Founded in 1978, GSP's companies include Great Big Pictures and Custom Color, which supply graphics, visual merchandising, and retail execution to leading consumer and retail brands throughout the United States. For more information, visit gspretail.com.
About AccuStore
AccuStore is the result of more than 40 years of helping retailers gain store-level intelligence to enhance operations, marketing, facilities, management, loss prevention and human resources. Its enhanced store profiling technology makes it easy for consumer-facing businesses to access real-time information about every site. AccuStore customizes a database of site-level details and stores it security on a cloud-based platform with a web interface and mobile 24/7 access. The mobile app enables managers to turn their strategic plans into store level results on the go. A GSP company, AccuStore is based in Clearwater, Fla.  For more information, visit accustore.com.
Email: marketing@gspretail.com