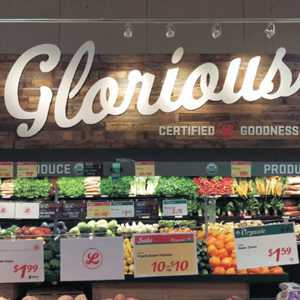 American Advertising (ADDY) Award
"Lucky's Market Installation"

GSP was presented with a prestigious Silver award for Out-of-Home & Ambient Media, Ambient Media Multiple Installation for Lucky's Market Store Install. Lucky's Market had a slate of new store openings planned, however, the accelerated pace was becoming significantly time-consuming and costly to install and supervise. GSP's visual merchandising team provided dedicated project management resources to assist with Lucky's rollouts helping the specialty grocer dramatically reduce overall spending and expedite speed to market.
American Graphic Design Awards
"AccuStore Self-Promotional Video"

Working closely with Event Vids production team, we concepted, scripted and art directed this self-promotion video used on our website and at tradeshows. This video captures and highlights the many ways AccuStore—GSP's survey, app and site profiling software—solves pain points retailers face daily. Viewers are taken through a series of on-screen questions and answers accompanied by visual examples of AccuStore's solutions.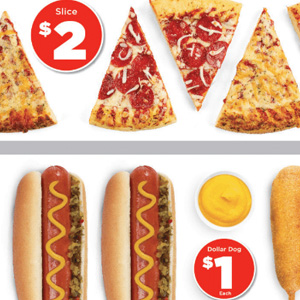 American Graphic Design Awards
"Bakery, Pizza and Hot Foodservice Launch"

Using photos from our photo shoot, GSP's Design team developed POP and signage to introduce Circle K's fresh new lineup of bakery and hot food items specifically for Circle K's Charlotte and South Carolina stores. This series of fun, yet simplistic design and imagery was featured throughout the interior and exterior of the store.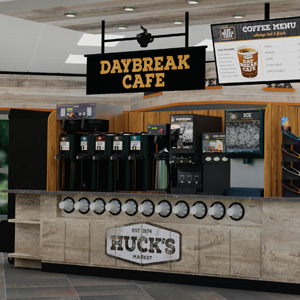 American Graphic Design Awards
"Convenience Store Rebrand and Remodel"

Huck's challenged GSP to develop a refreshed branded package and in-store experience for its 4,800-square-foot protype convenience store in Seymour, Indiana. Our winning concept captures an overall modern, yet vintage look and feel.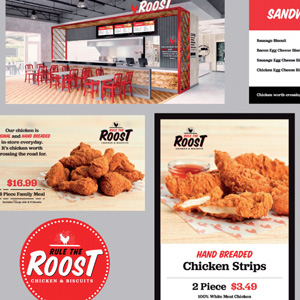 American Graphic Design Awards
"Convenience Store Foodservice Launch"

7-Eleven challenged GSP to create a brand package for its new quick service restaurant, Roost. The work—developed for a 38-store test market in Charleston, South Carolina—focused on a modern twist for its chicken and biscuits the customers can't resist. We touched everything from photography to POP.