Industrial Design Spotlight:
Easy Change Modular Menu System
Easy to change menu system customized to your brand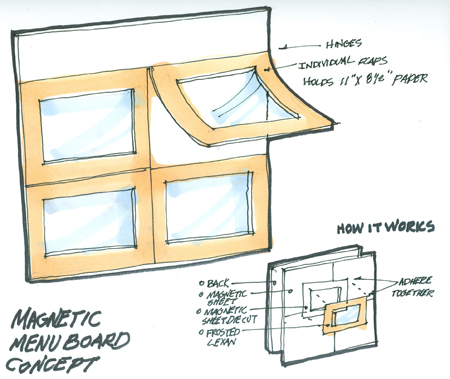 GSP's modular menu system is composed of 4-8 magnetic sign panels and has tremendous flexibility in terms of design application, and ideal for highlighting foodservice menu offerings.
Photos of foodservice items are printed at the base of each panel under each window flap to illustrate the offering as well as act as filler when a pricing special does not exist.
The panels are completely changeable, and the pricing graphic panels, with easy to read type design, can be printed at the store level and simply slip into position. The magnetic strips seal everything in place.
This menu system can be customized to work with a variety of colors and materials, such as wood or brushed aluminum, to match your store décor and brand. Also any shape can be printed or added to the top or bottom of the system to add additional branding components or special promotions.
Easy Change Modular Menu System Features:
• 8.5" x 11" inserts for easy store price changes
• Modular for multiple configurations, and with any number of panels
• Can be finished in a variety of different material finishes to match store décor
• Custom configurations available in different panel sizes
In the below designs, the first menu system incorporates 2 four-panel menuboards and a strong centered brand identifier. The additional designs show varying configurations of the same modular elements.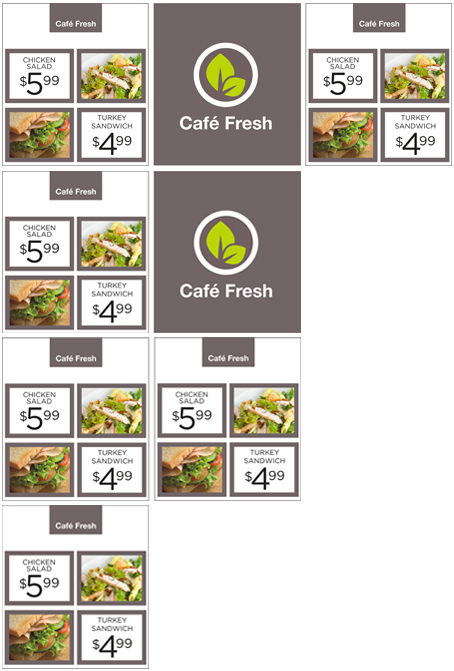 GSP's modular menu system, equipped with easy to change magnetic menu panels, is ideal for busy foodservice retailers to enable quick price adjustments at the store level. The system can be customized to match store brand colors and materials and is modular enough to even incorporate on store kiosks throughout the store.