Is Scratch & Sniff Making a Comeback?
From children's books to mainstream advertising
Scratch and sniff has traditionally been popular in children's books, where the reader can scratch and sniff a picture of a cookie to smell the fresh-baked scent, for example. It is also now being used in advertising, where it may capture the scent of a new car or rubber tire, lumber, flowers, the smell of a particular detergent or medicine, ham, ketchup, popcorn, butter or a number of other scents – for an interactive user experience.
The scent is encapsulated in ink and has a long lasting shelf life of up to a year. When the ink is scratched or rubbed, the capsules break and the scent is released. It can be printed on coated or uncoated stock and can even be printed on plastic cards, such as customer loyalty cards. The basic ingredients of scratch and sniff are water, oil, scent and either gelatin or a water soluble polymer. A certain chemical catalyst is used to bring about the reaction and a water-soluble adhesive is needed to affix the material to the paper during printing.
With the popularity of online publications, mobile and social media platforms, retailers need to find new ways to capitalize on sensory experiences, and Scratch & Sniff is a fun way to do it. InStyle Magazine featured five Scratch & Sniff scents in their annual "101 Reasons to Smile This Summer" issue. The five summer scents were five generic flavors—"popcorn, watermelon, grass, sun tan lotion, and iced coffee."
InStyle Editor Ariel Foxman explained: "We couldn't make the pages tasty, but the magazine can definitely smell like summer! We have a lot of energy invested in digital, mobile and social platforms, but you can't smell your phone or sniff a website yet. There's nothing like adding an extra sensory experience to a print publication. We're the only, and first, women's magazine to do this."
Scratch & sniff cards were also handed out at the "Spy Kids: All the Time in the World" 4D movie this summer so audiences could follow along on the action with their noses. "When it came time to do 'Spy Kids 4,' I couldn't just go back and do 3D like everybody else is now. I had to bring something extra," said Filmmaker Robert Rodriguez. "Just watching my own kids with interactive gaming, you ask them to watch a movie, it just feels so passive to them. I thought, this helps bridge the gap. It's an interactive thing, almost like playing a game while you're watching the movie."
BBC in the United Kingdom recently distributed scratch 'n sniff cards throughout local UK libraries to go with their new television show, Filthy Cities. The show will show viewers what it was like in European cities of the past before widespread sanitation. Residents and visitors to these cities hundreds of years ago had to deal with rotting corpses, bedpans, sewage and a variety of other unpleasant smells. These smells can now come to life to modern viewers thanks to the scratch and sniff cards.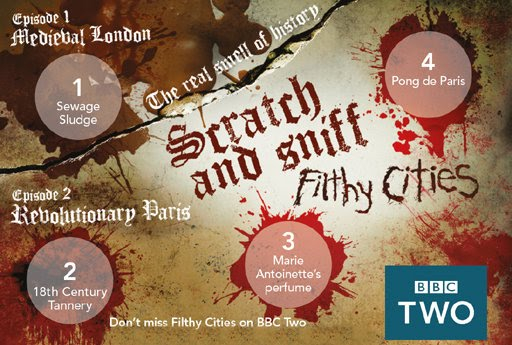 In retail, you could use the Scratch and Sniff printing technique in a variety of ways to provide an interactive experience for the consumer. It could be used on direct mail pieces, handout cards or tear strips to generate interest in a new product offering, such as a new chip, popcorn or ice cream flavor - or on a coffee loyalty card program with a strong coffee scent. These scratch and sniff handout cards or tear strips could be placed in the store at the coffee station, on endcap displays, in easel backs on the checkout counter or on neck ringer tags on drink bottles.
At the pump, some scents are strong enough to be used to help remove fuel smell from hands. Scratch and sniff cards or tear strips with natural deodorizer scents like vanilla, vinegar, lemon or orange scent could be placed in pump siders outside the store for a take away after pumping gas.
Try a scratch and sniff promotion today. It provides a unique sensory experience that consumers will embrace.