Since 2004, the National Retail Federation (NRF) has been conducting its annual Valentine's Day consumer spending survey. Wonder how Americans plan on spending and celebrating Feb. 14, 2020? Read on.
NRF President and CEO, Matthew Shay says:

"Valentine's Day is a sentimental tradition, but gift-giving can be driven by the economy. Consumers spent freely during the 2019 winter holidays and they appear ready to do the same in the new year. The same strong employment numbers and higher wages that boosted holiday sales should make it easier to spend a little extra to say, 'I love you' this year and to spread the gift-giving beyond just your significant other."
Record Spending for Valentine's Day 2020
Those celebrating, plan on spending about $196 each, here's the breakdown:
2020 Valentine's Day spending is said to be up 21%

2019 Valentine's Day record was nearly $162

2020 Valentine's Day spending is expected to total $27.4 billion
2020 Valentine's Day spending is said to be up 32%

2019 Valentine's Day record was nearly $20.7 billion
Why Record Spending for Valentine's Day?
Per the NRF, "This increase in average spending may be due to stronger consumer finances and a continued trend of consumers buying more gifts, cards, candy and flowers for friends, family, co-workers and pets. The increase in total spending comes as the number of people celebrating Valentine's Day returned to 55%, about average for the past decade, after a dip to 51% last year."
Who Is Spending Money on Valentine's Day?
As expected, spouses and significant others are responsible for the biggest share of Valentine's spending. Spouses and significant others will spend $101 this year, up from $93 in 2019 – note their share of the spending is down almost 10% from a decade ago.
How Much Are Consumers Spending on Valentine's Day?
Consumers claimed they will spend an average of: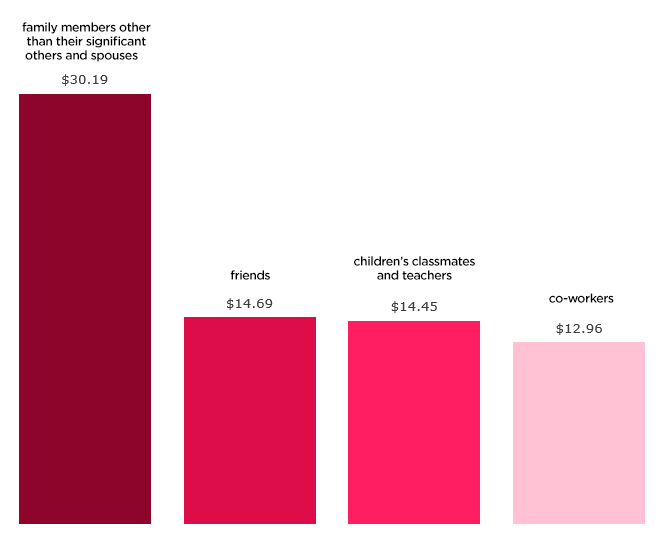 Record Amount of Valentine's Day 2020 Spending on Pets
Shoppers plan on spending $1.7 billion on their, wait for it … PETS! That number is up from 17% in 2010 ─ the highest figure in the history of NRF's survey.
27% of shoppers plan on purchasing Valentine's Day gifts for their pets
Shoppers will spend a total of $1.7 billion on their fur babies
"We've always heard of puppy love, but pets are definitely seeing a larger share of Valentine's Day spending," Prosper Insights Executive Vice President of Strategy Phil Rist told NRF.
Top 5 Valentine's Day Gifts – What Are Shoppers Buying?
It's no surprise candy and greeting cards are the most popular with jewelry and an evening out topping the list on spend. With Valentine's Day falling on a Friday, that surely helps increase store traffic and allows shoppers to extend their holiday plans into the weekend.
| | | |
| --- | --- | --- |
| Gift Item | Percent Buying | Billions Spent |
| Candy | 52% | $2.4 |
| Greeting cards | 43% | $1.3 |
| Date night out | 34% | $4.3 |
| Flowers | 37% | $2.3 |
| Jewelry | 21% | $5.8 |
Where Are Consumers Shopping This Valentine's Day?
According to NRF's survey, the most popular place to shop for loved ones are Department stores. By percentage, here's where Americans plan on purchasing their Valentine's Day gifts: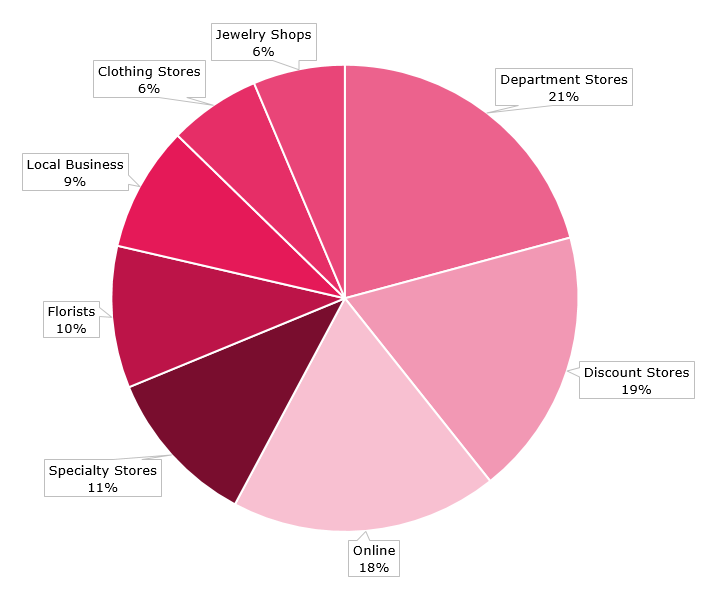 GSP provides award-winning marketing, design, visual merchandising, food photography, best-in-class graphics and smart POP program management to more than 70,000 retail locations throughout the U.S. Contact us to learn more.