Menu System
Menus, large or small, drive food service traffic and help build your food service brand. Menu systems must be easy to install, modular to fit various locations and easy to maintain in the stores. GSP's Creative Services team has a series of menu systems that fit into any retailer's space and budget. Working on the premise that no two stores are exactly the same, the menu systems are modular to allow for each location to have customized menu sizes and graphics – improving the consumers experience and helping to build your brand.

Modular Window Sign
Always looking for new ways to display regular merchandise with frequent price changes, the team created a sleek design to showcase products in a window or hanging from the ceiling. This unit is a double sided with spirals for pricing. It is constructed of an inner piece that is an .080 skin on each side glued to a .375″ inner core. It has routed openings for the spiral pricing to fit in. It is all housed with a metal frame that it inner core slides into. The graphics then slide in on each side of inner core and are easily changeable. The sign is also changeable, the structure provides a good carrier for graphics that can change the look whenever needed.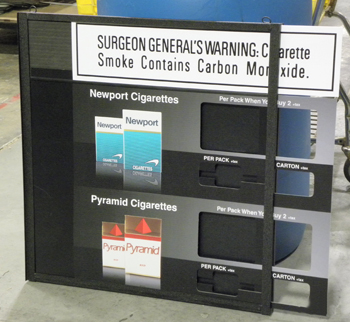 Shelf Sign
The sign is simple and functional. The unit is 1.25″ high x 12″ wide, channel with accordion numerals and accordion brand graphics. It has a data channel turned upside down and taped on the back so it can slide in to existing data channel on cooler shelves. It can work on any rack with existing data strip type channel.