Social distancing is the "new norm" but retailers and shoppers say maintaining that six-foot distance at grocery stores can be challenging. Grocery stores and convenience stores are doing their best to follow social distancing guidance from the CDC.
Retailers are getting creative in their fight to prevent customers from standing within six feet apart from any person for more than 10 minutes. Some stores are placing carts or chairs six feet apart or using electrical tape placed on the floors as guides to help shoppers know where exactly they can safely position themselves while others are creating graphics and POP to assist.
How Can Retailers Implement Social Distancing?
Here are five ways retailers can help keep shoppers safe in their stores during the Coronavirus crisis.
Floor Graphics or Floor Clings
Floor clings or floor decals are one of the easiest ways to direct and remind shoppers to keep their distance. Ideal for indoor and outdoor use, slip resistant, durable, and adhesive floor clings are made from a variety of different substrates. Retailers can even chose eco-friendly materials

to meet their sustainability goals.

Creative Cutouts of Your Products
Using oversized cutouts featuring graphics of your most popular products makes for a fun, lighthearted way to keep customers from inching their way closer. To prevent this, a doughnut shop in Seattle created large cardboard versions of their delicious doughnuts for customers to hold while placing to-go orders.
Shelf Talkers With Clever Sayings
Shelf talkers, flags and wobblers are often used to promote products, and they still can, however they're also an easy way to remind customers to "back off." You can use standard verbiage to instruct shoppers to distance themselves or use memorable phrases, sayings or song lyrics such as, "Don't Stand So Close to Me – Please allow six feet between you and your fellow shoppers."
Standees, Aisle Invaders or Aisle Violators
Developing larger die-cut displays

, standees, aisle invaders or aisle violators is another creative and smart way to keep customers following CDC guidelines. Standees provide plenty of messaging real estate to include additional safety tips and are ideal for the lines forming outside of grocery stores.

Designated Area Signage & POP
With makeshift drive-through solutions becoming more and more popular for foodservice, proper signage is key. Customers that may already feel frazzled over this new setup may need direction. Consider creating signage with clear direction so customers know how and where to pick up and pay. If you offer cashless payment options, this is also the perfect opportunity to remind shoppers they can use your app, Apple Pay or Google Pay to avoid touching and exchanging bills and coins.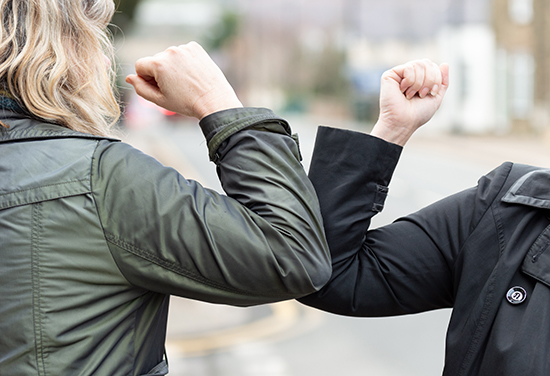 Linda Bestwick/Shutterstock.com
If you'd like us to brainstorm or develop additional signage, clings or POP to assist your stores with social distancing,
let us know
. We're here for you.