From Umbrellas to Spoons, How a Growing Retailer Brings a Compelling Brand to Life.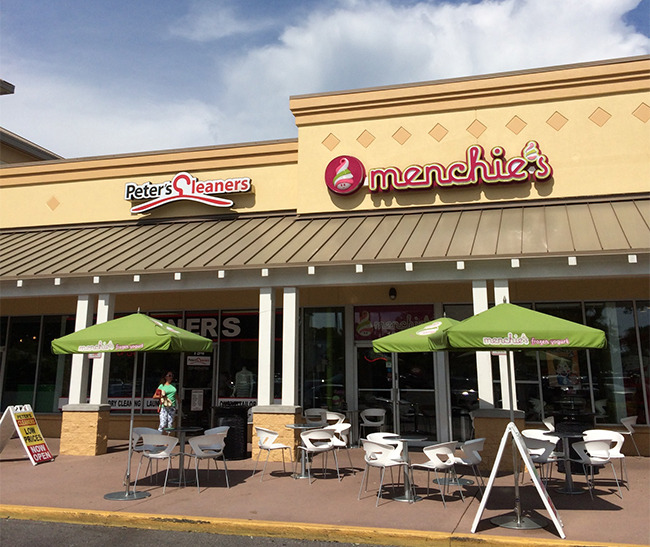 Established in 2007, Menchie's is North America's largest self-serve frozen yogurt franchise, and has over 380 locations with 400 locations in further development throughout the US, Canada and 15 other countries worldwide. Menchie's focuses on serving the highest quality product with friendly customer service in an inviting store design.
Menchie's offers guests premium rotating yogurt flavors and a large variety of toppings for unlimited combinations. And since they incorporate a pay-by-weight formula, guests can serve themselves and enjoy with Menchie's signature collectible spoons. Click here to watch Ella, Menchie's spokesperson, demonstrate the mixing options and process.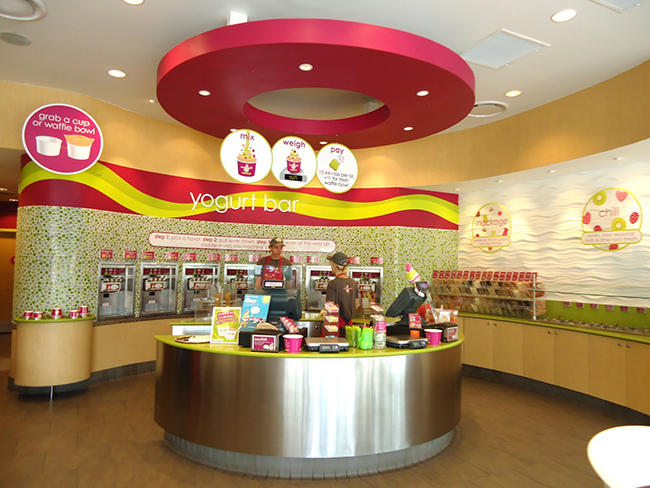 In addition to the inviting store design, fresh quality self-serve products and friendly attentive staff, Menchie, the company mascot, is also an integral part in creating a happy atmosphere for guests. Menchie's operations are standardized for a consistent quality product and in-store experience at any location.
The menu at each store consists of various yogurt flavors, dry goods, and fresh fruits that may vary by region or season. All locations stock branded items and have indoor as well as outdoor seating.
Menchie's interior décor features whimsical branded
signage and their logo's bright colors are incorporated in architectural details and throughout the store. The materials used, such as the small green glass tiles on the walls and brushed metal counter provide a modern feel. There are also chalk boards on the walls for children to color.
The large signage placed above each self-serve station provides simple instructions, and the yogurt/topping signage is easy to read. On the exterior, the Menchie's sign is prominent and there is adequate outside seating with branded green umbrellas.
Key Marketing/POP lessons from Menchie's:
Utilize large easy-to-read hanging signs for self-service areas
Strong brand identifiers with prominent logo, mascot inside and outside the store
Loyal to brand – consistent use of green and pink brand colors throughout all store elements
In-store brand extensions – take home collectible spoons and branded merchandise help to keep the brand top of mind
Inviting, fun atmosphere encourages repeat business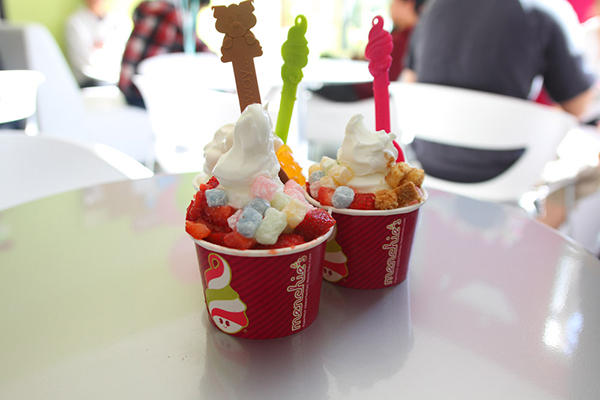 Menchie's has set the standard for the yogurt industry by providing a unique customer experience with an inviting self-serve atmosphere. They have created
a successful brand that keeps customers coming back for more. Menchie's also provides a local gathering place for family and friends to celebrate, relax and have fun.