From grilling to traveling, NRF's Independence Day 2019 survey says 86 percent of Americans plan on celebrating Independence Day. Read on for interesting Fourth of July consumer facts and spending stats.
Customers Fuel up and Hit the Road
According to AAA, overall Independence Day travel is expected to rise 4.1 percent over last year. An additional 1.9 million people are planning road trips and other vacations to celebrate the Fourth of July.
"Gas prices are, on average, 17 cents cheaper than Memorial Day weekend, which is welcome news for motorists hitting the road to celebrate the July Fourth holiday," said AAA gas price expert Jeanette Casselano. "More so, summer gas prices are poised to continue dropping even lower in coming weeks."
Lower gas prices are motivating 41.4 million American drivers—the most on record—to hit the road. This is a perfect opportunity for convenience store retailers to convert those fuel-only sales into c-store purchases. With road trippers seeking out snacks, iced coffee, and grab 'n go items, now's the time for stores to alert customers of their popular offerings, loyalty programs and promotions.
How Americans Plan to Celebrate the Fourth of July
Though millions will be traveling, others plan on partying, picnicking, barbequing and enjoying fireworks displays with family and friends.
61% are attending cookouts or barbeques
40% are checking out local fireworks
26% of those celebrating plan on making patriotic purchases such as flags, apparel or decorations
Independence Day Sales and Shopping Offers
Retailers traditionally welcome Fourth of July shoppers with deep discounts on everything from mattresses to mowers. Stores like Best Buy, Home Depot, Target and Walmart, just to name a few, celebrate Independence Day by dropping prices, offering coupon codes and running campaigns customers can't resist. Plus, consumers using the GasBuddy app can score free fuel with purchases from retailers such as Harry and David, Dick's Sporting Goods and more.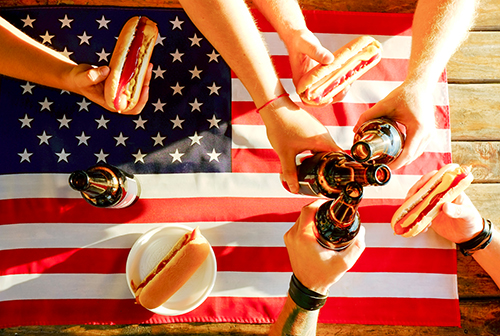 Fourth of July Food Facts
$6.78 billion represents the total expected food spending, which is great news for supermarket retailers
$73.33 is the average food spending per person, an increase of more than $5 per person since 2014
150 million hot dogs are consumed
700 pounds of chicken is purchased
$804 million is spent on beef
$1 billion was spent on beer last Fourth of July
68,000,000+ cases of beer are typically purchased – making Independence Day the No. 1 beer-drinking holiday
GSP helps retailers with everything from remodeling their legacy stores to rebranding, marketing, technology and more. Follow us on Twitter and LinkedIn to hear more.