POP Lessons From a Coffee Leader.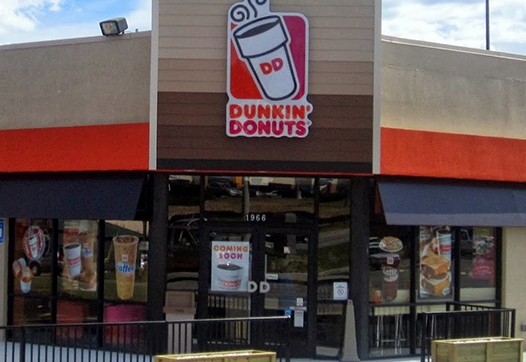 Dunkin' Donuts has over 10,000 current locations worldwide with over 7,000 throughout the United States. With a focus on coffee and baked goods, the growing chain has built a strong brand in the coffee arena in recent years, and is on an aggressive path to add more stores.
The new Dunkin' Donuts stores have a fresh, modern feel with the inviting aroma of coffee and pastries. There are coffee displays and standees with large coffee photographs near the entrance and coffee counter. The menu panel has many offerings but clearly highlights new drink and food items for big idea impact. On the exterior, there are large iconic coffee images for powerful brand identity that is visible from the street.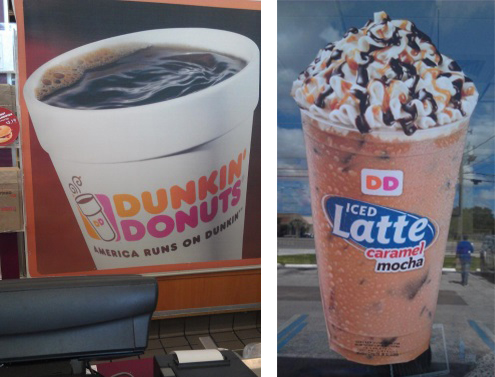 To market and communicate their large variety of coffee flavors and product offerings, Dunkin' Donuts utilizes a variety of big window signs, produced and contour-cut to different cup designs. The cup decals are simple, with minimal copy and without a highlighted price, but they have big impact. The coffee signs wrap the building.
They communicate their heritage and tagline (America runs on Dunkin') though their napkins, cups and other product packaging. The brand presentation is consistent across POP and packaging. They also use their primary coffee cup to highlight their new coffee offerings, such as the new Dunkin' Dark Roast.
Key POP lessons from Dunkin' Donuts:
Large in-store signage with bold photography for best visibility and strong coffee impact
Strong brand identifiers with prominent logo and iconic coffee images outside the store
They let the drink tell the story with key brand messaging and new product offerings promoted on the coffee cups
Use a variety of cup designs to market the drink offerings boldly on the windows with large sign decals contour-cut into different cup shapes
The signs also do not highlight a price—it's all about the experience of the coffee drink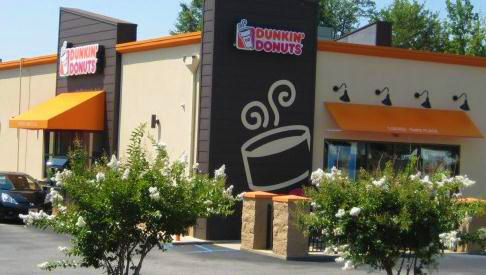 Dunkin' Donuts strong branding initiatives, logo, tagline and iconic coffee graphics all talk to coffee – resulting in an effective, cohesive marketing campaign. Their bold signage choices work well inside and outside the store to build brand recognition that drives sales and customer loyalty for repeat business.
GSP designs and produces innovative POP signage, such as the contour-cut window signs shown here, for many leading retailers. Click here to see our portfolio.