Targeting "Moments" with Twitter
A New Approach to Driving Brand Awareness and Sales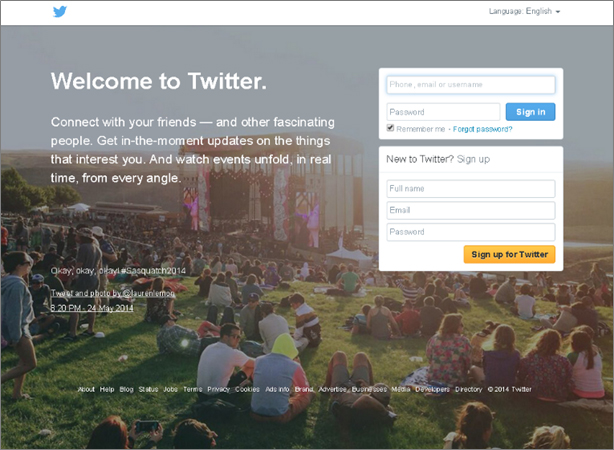 Twitter's disruption of traditional media is hard to have missed.  It has become an accepted alternative to some traditional channels (the king of Spain abdicated on Twitter!) and it is growing in importance as a tool to communicate with consumers. 
GSP's Design team recently reviewed a few of the ways that marketers are leveraging Twitter to drive their brands and sales:
Event Based (Live Moments)
Seize live-moment opportunities like Arby's did with their clever tweet to Pharrell Williams at the Grammy Awards (Hey @Pharrell, can we have our hat back? #GRAMMY's). Right after the Grammy's, Arby's saw around 6,000 new followers.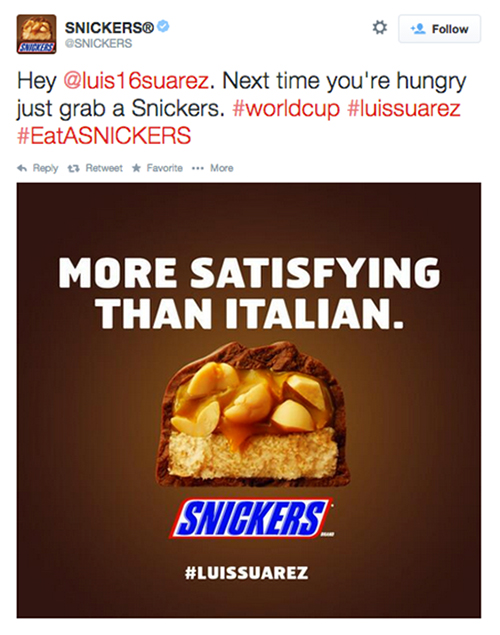 The team at Snickers was on the ball when they came up with their instant tweet to Uruguayan soccer player Luis Suarez during the World Cup, right after he took a bite out of his Italian opponent's shoulder. Snickers reached more people during the World Cup with their tweet than Cup sponsors Nike & Adidas combined: 15 million impressions within seconds. It was also retweeted 43,184 times and Snickers' Twitter handle gained almost 5,000 followers in less than two days.
Planned Campaigns
TV's "Second Screen" Campaigns
If TV is the original live platform, Twitter has become its second screen companion:
65% of people tweet while watching TV
There are 2.3 million tweets per day about TV
Top shows tracked by Nielson from Sept. '13 – May '14: Breaking Bad (521,000 tweets sent out in 1 day; seen by 5.2 million users), The Walking Dead, Pretty Little Liars, The Bachelor and Game of Thrones
People who use Twitter & TV together are more engaged and more likely to watch commercials (according to Nielson brand effectiveness study)
To capture this second screen opportunity, choose a TV show audience relevant to your brand, time your tweets to coincide with the show and include the show's Twitter handle. Also look for trending handles that relate, such as a character's name. 
Branding / Engagement Campaigns
Kenneth Cole is using Twitter to invigorate their brand. They hosted a Twitter party for fashion bloggers. He matched followers' donations to charity and integrated tweets on screen at his fashion show. Anyone who retweeted the show was entered to win a gift card. The results of their Twitter marketing efforts: New followers have increased by 8x, Kenneth Cole's fashion show stream received 430,000 views (3 times higher than competitors') and Kenneth Cole noticed a 74% increase in brand mentions.
Duane Reade has also successfully used Twitter for its marketing initiatives. They created a Twitter party to promote new store openings — and received 65 million impressions in an hour. They implemented a "Show Us Some Leg" campaign to promote hosiery that received 19.4 million impressions and resulted in a 28% lift in hosiery sales.
Duane Reade also used social media to drive in-store traffic. Their tweets reminded customers to scan the QR code on the door clings to unlock weekly deals. And they made their customers feel like they were part of the brand. They asked followers to tweet their best New York skyline photos, and chose one as the cover photo for their Facebook page.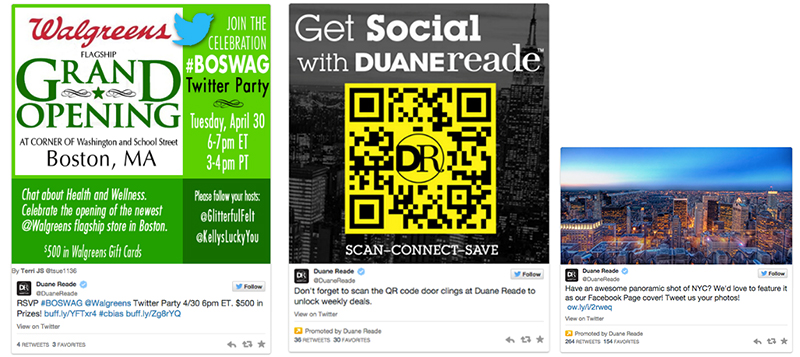 Paid Ads
Companies can also market their brands on Twitter with paid ads or promotional tweets.
The ads can target by keywords. For example, a home improvement store might consider targeting words such as "paint," "flooring" or "home improvement" based on these stats:
152 tweets per minute about paint
458 tweets per minute about flooring
28k tweets per hour
You can also target people who might be interested in your brand by words in their profile, such as "yoga" or "Falcons fan." Advertisers can then track who retweeted, who forwarded, who favorited and who clicked on a link.
With an average of 350,000 tweets per minute, Twitter certainly has people talking. Why not get in on the conversation with your customers and incorporate Twitter in your Marketing efforts?  As these brand examples have shown, results can be quite amazing.
Source: September 2014 presentation by Twitter's US sales & marketing team