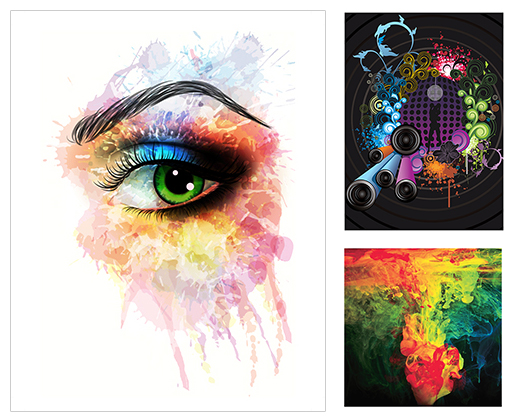 Clearwater, FL, October 23, 2014 – GSP, a leading provider of POP to large multi-site operators and leading brands, is proud to announce today that they were honored with three awards in the SGIA Golden Image Awards competition at the SGIA Expo conference held October 22-24, 2014 in Las Vegas—a full sweep of the Fine Arts, True Process Color Category. GSP's screen print "Eye" entry won Gold, "Disco Ball" won Silver and "Splash" won Bronze.
SGIA's Golden Image Awards is an annual competition that celebrates industry-leading excellence in specialty imaging. Hundreds of entries are evaluated by an elite team of imaging professionals, who award gold, silver and bronze ribbons to the best prints.
"We are proud to win Gold and sweep our category," said Elaine Scrima, GSP's VP of Operations. "And it is an honor to be recognized by SGIA. We have perfected the flamenco print screen process, which enables us to consistently provide the best-in-class lifestyle and foodservice POP our retail and restaurant customers require."
GSP used the flamenco single angle screening separation method to produce all three prints. The Eye and Splash print were printed on Styrene with a clear UV overprint and the Disco Ball was printed on a chrome Mylar substrate.
"Winning the Gold, Silver and Bronze for the Fine Arts, True Process Color category places GSP among the top specialty printers in the world in terms of quality and capability. The ability to consistently print such high-quality products indicates that GSP is an expert at controlling the many variables involved in specialty printing," said Johnny Shell, SGIA's Vice President of Technical Services.
GSP recently achieved the G7® Master Printer Qualification from IDEAlliance for both the GSP Operations Florida and GSP Operations Utah facilities, for the 5th consecutive year. GSP has achieved the G7® Master Printer Qualification for screen and wide-format digital printing, a certification achieved by less than 6% of G7® Master printers worldwide. G7® is a method for calibrating imaging devices to ensure consistency across multiple production runs for the highest quality printing regardless of print method or production facility.
The two GSP Operations facilities demonstrate massive print and fulfillment capacity designed for both long runs (for the few sign types that may be common to many locations) and short runs (for the many signs that need customization by region, architecture or store).
For a complete listing of industry awards GSP has received, please visit gspretail.com/awards.
About GSP
We provide retail branding and marketing services with a focus on site-specific execution to help transform our customers' growth strategies into store-level success. We provide the lowest cost POP program available by ensuring stores only get what they need and nothing more. And, we help create an amazing in-store consumer experience and provide the tools to help execute it - store by store. For more information, visit gspretail.com
Contact: Marketing – GSP (Email: marketing@gspretail.com, Voice: 727-532-0647)