Clearwater, FL, February 7, 2014 – GSP, a leading provider of retail services, is proud to announce today that their POP design work featured in Home Depot, Circle K and Earth Market stores has been recognized with three 2014 American Package Design Awards.

The American Package Design Awards, organized by Graphic Design USA, recognizes well-designed package design, in-store graphics, point-of-sale signage, and the power of design to advance the brand promise and influence the consumer's purchasing decision.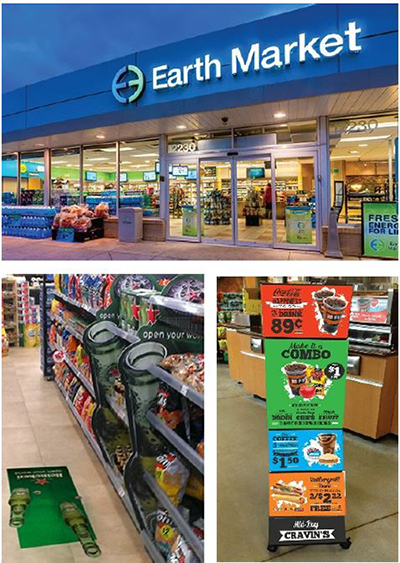 GSP's Rolling Kiosk fixture, featured at Home Depot's HD Fuel locations, was recognized in the kiosks/displays category. The moveable kiosk was developed to communicate foodservice offerings and monthly specials in various locations throughout the store.
GSP's Heineken beer display, designed for Circle K stores, was recognized in the P-O-P/posters/signs category. The display, which consisted of large three-dimensional contour-cut beer bottle aisle invaders and floor graphics, was used to create impact and improve visibility.
GSP's design of the Earth Market logo was awarded in the stores logos/identity/branding category. GSP's Design Services team created the Earth Market brand identity for Atlas Oil's new concept stores. The identity is used on the storefront and throughout the store on all branding, signage and specialty food product labels. The logo incorporates the interior colors and modern feel of the store concept.
"We are pleased to win these premier awards, and proud of the design work featured in our retail partners' stores," said Steven Cohen, GSP's Vice President of Design Services.

GSP's Design Services team delivers a wide variety of services: graphic design, foodservice design, copy writing, logo and brand development, store reimaging and food photography.
ABOUT GSP
GSP provides retail branding and marketing services with a focus on site-specific execution to help trans-form your growth strategies into store-level success. We provide the lowest cost POP program available by ensuring your stores only get what they need and nothing more. And we help you create an amazing in-store consumer experience and provide the tools to help execute it - store by store. We make retail better. For more information, visit gspretail.com
Contact: Marketing – GSP (Email: marketing@gspretail.com, Voice: 727-532-0647)