Clearwater, FL, October 6, 2014 – GSP, a leading provider of retail services, is proud to announce today that their design work for Kangaroo Express's Hot from the Oven campaign, and Café Fresh foodservice branding campaign both won a 2014 American Graphic Design Award.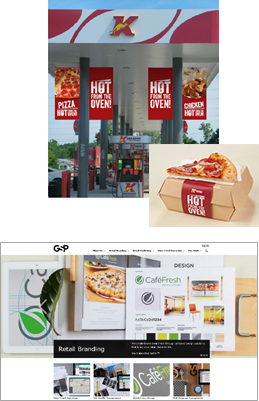 The American Graphic Design Awards, in its fifth decade of competition and sponsored by Graphic Design USA magazine, recognizes well-designed work across all media with over 8,000 entries, including print, packaging, point-of-purchase, internet and interactive graphics.
The 2014 Kangaroo Express Hot from the Oven campaign theme and graphics were designed and produced by GSP's Design Services team to launch and brand the convenience retailer's new hot food offerings that range from breakfast pouches to pizza to sweet treats. The POP graphics were designed with bold copy and large food images to create big impact and improve visibility inside and out. The packaging was designed to market the idea, while the food photography was styled and shot to entice the customer to try this new food offering that's fresh and hot from the oven.
Café Fresh is GSP's foodservice brand concept that was designed and developed as a marketing tool to help provide our retail customers with design direction, ideas and inspiration for branding new food initiatives. The Café Fresh brand has been implemented in various mediums as part of an ongoing integrated campaign that highlights ways retailers can enhance their foodservice, fountain and coffee brands with unique fixtures and menu boards, food photography and innovative POP solutions to drive traffic and in-store sales.
"We are excited to win these design awards—and proud to have our retail partner's campaign recognized. The Hot from the Oven campaign effectively communicates that the fresh hot foods are perfect for on the go, which was the ultimate goal," said Steven Cohen, GSP's Vice President of Design Services. "We are also pleased to win an award for our Café Fresh campaign that provides impactful foodservice branding and in-store marketing ideas, and inspiration for our many clients." GSP's Design Services team delivers a wide variety of services: graphic design, foodservice design, copy writing, logo and brand development, store reimaging and food photography.
ABOUT GSP
GSP provides retail branding and marketing services with a focus on site-specific execution to help transform your growth strategies into store-level success. We provide the lowest cost POP program available by ensuring your stores only get what they need and nothing more. And we help you create an amazing in-store consumer experience and provide the tools to help execute it - store by store. We make retail better. For more information, visit gspretail.com
Contact: Marketing – GSP (Email: marketing@gspretail.com, Voice: 727-532-0647)