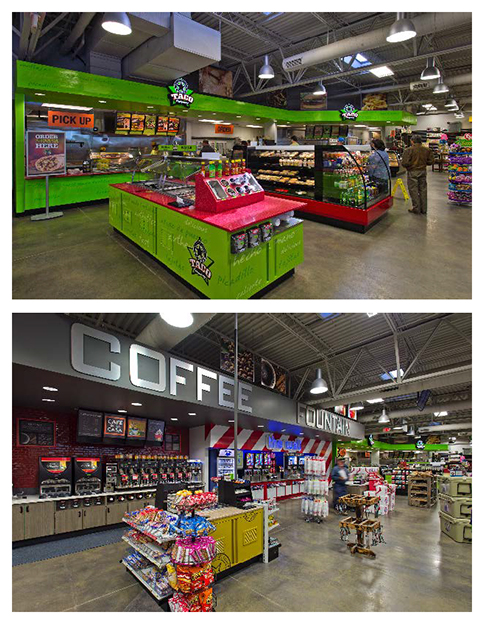 Clearwater, FL, March 3, 2015 – GSP, a leading provider of POP to large multi-site operators and leading brands, is proud to announce today that their design work for the rebranding of the Chick's store to Stripes won a 2015 Tampa Bay Gold ADDY Award in the Sales Promotion Branded Environment category for the American Advertising Award competition.
The 2015 American Advertising Awards is the advertising industry's largest and most representative competition, attracting over 40,000 entries every year in local American Advertising Federation (AAF) Ad Club competitions. The mission of the American Advertising Awards (ADDY) competition is to recognize and reward the creative spirit of excellence in the art of advertising.
The design work involved rebranding the 12,000 square foot Chick's store in Bryan, Texas to the Stripes c-store brand and model. Key design components included updates to the well-known Laredo Taco Company food brand, The Wall fountain area and the creation of the Café de la Casa Coffee to work within the much larger space. GSP designed and produced all of the POP and fixtures, including new logo and category identity signage, lifestyle/product images and menu systems to clearly define the different foodservice areas and to help drive traffic.
"We are pleased that our design work for Stripes has been recognized by the AAF," said Steven Cohen, GSP's Vice President of Design Services. "The end result is a fantastic branded environment that brings the Stripes c-store to life in a larger footprint. All of the rebranded additions create big impact, help to improve visibility of the category destinations—and truly communicate the essence of the Stripes brand."
ABOUT GSP
GSP provides retail branding and marketing services with a focus on site-specific execution to help transform your growth strategies into store-level success. We provide the lowest cost POP program available by ensuring your stores only get what they need and nothing more. And we help you create an amazing in-store consumer experience and provide the tools to help execute it - store by store. We make retail better. For more information, visit gspretail.com
Contact: Marketing – GSP (Email: marketing@gspretail.com, Voice: 727-532-0647)