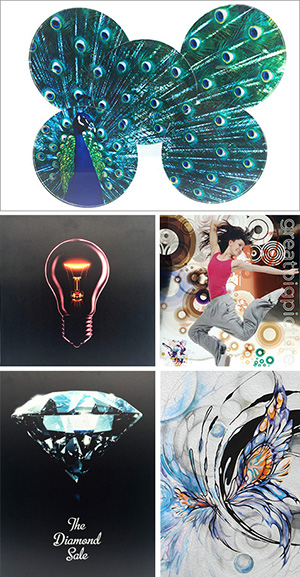 Clearwater, FL, September 20, 2016 – GSP, a leading retail services provider, is proud to announce that it has been honored with six SGIA Golden Image Awards and three honorable mentions during the Specialty Printing and Imaging Technology Association's (SGIA) annual expo in Las Vegas.
"The final medal count, as they say at the Olympics, was three gold, one silver, two bronze and three honorable mentions. Way to go, Team GSP!" said Elaine Scrima, GSP's VP of Operations, who was on hand for the event. In several categories, GSP entered more than one project leading to multiple wins. In the digital posters category, GSP won both the gold and the silver!
SGIA's Golden Image Awards celebrate industry-leading excellence in specialty imaging. Nearly 500 entries in 53 categories were submitted from companies around the world and evaluated by an elite team of imaging professionals during the SGIA Expo. The Golden Image competition is judged on the technical accomplishments of each entry, excluding aesthetic issues from the evaluation and scoring process. Prints are judged on the level of difficulty and quality of execution.
"The Golden Image Award recognizes the highest quality printers who achieve remarkable control and ability," said SGIA's Vice President of Technical Services, Johnny Shell. "Only the best in the industry are awarded this prestigious honor," he added as he extended his congratulations.
While at the SGIA expo, Elaine was also presented with the first-ever Women In Print Award from Big Picture magazine. Elaine was recognized at the Chairman's reception as one of six female leaders who "have advanced the digital printing industry through their innovation, vision in leading successful businesses, and philanthropy."
ABOUT SGIA Expo
A recap of the SGIA Expo and a complete list of Golden Image winners can be found at https://www.sgia.org/.
ABOUT GSP
Founded in 1978, GSP is a retail services provider located in Clearwater, Florida with three regional production facilities (Clearwater; Provo, Utah; and Madison, Wisconsin). By using surveys and a proprietary software system, GSP helps retailers accurately measure and store site data, guaranteeing the right size sign is delivered to the right store every time with no overage. GSP also offers award-winning marketing, food photography, industrial design, visual merchandising, best-in-class graphics and smart POP program management to more than 60,000 retail locations throughout North America. Recent growth led GSP to add AccuStore, a survey, app and site profiling software brand, and the large-format graphics lab Great Big Pictures, which specializes in fashion retail. For more information, visit www.gspretail.com.
Contact: Marketing – GSP (Email: marketing@gspretail.com, Voice: 727-532-0647)