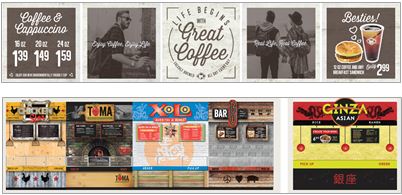 Clearwater, FL, September 29, 2016 – GSP, a leading provider of retail services, is proud to announce that it has won two 2016 American Graphic Design Awards, a national design competition.
GSP won in the POP/Displays/Signs category for its coffee rebranding project for Kroger convenience stores. The work features a simple color palette, white-washed wood, lifestyle imagery and fun coffee statements that reinforce the theme of "Life begins with great coffee." The project is in the process of being rolled out to Kroger stores.
GSP also won for its branding/identity work on a food court design for future Kroger grocery stores. We created five distinct food brands that could comprise a new food court. Each brand has its own graphics package that consists of naming idea, logo, back wall, menu system, associate apparel and packaging to tie it all together.
The 53rd Annual GDUSA American Graphic Design Awards are sponsored by Graphic Design USA magazine and showcase the best in design work across multiple mediums, including point-of-purchase, interactive, print, packaging and more.
"We're proud of the work we did for Kroger. They always challenge us with great projects we love to do. We design with their needs in mind first – but it's also very nice for our talented design staff to be recognized by GDUSA as among the best in graphic design," said Steven Cohen, GSP's Vice President of Design Services.
ABOUT GSP
Founded in 1978, GSP is a retail services provider located in Clearwater, Florida with three regional production facilities (Clearwater; Provo, Utah; and Madison, Wisconsin). By using surveys and a proprietary software system, GSP helps retailers accurately measure and store site data, guaranteeing the right size sign is delivered to the right store every time with no overage. GSP also offers award-winning marketing, food photography, industrial design, visual merchandising, best-in-class graphics and smart POP program management to more than 60,000 retail locations throughout North America. Recent growth led GSP to add AccuStore, a survey, app and site profiling software brand, and the large-format graphics lab Great Big Pictures, which specializes in fashion retail. For more information, visit www.gspretail.com.
Contact: Marketing – GSP (Email: marketing@gspretail.com, Voice: 727-532-0647)