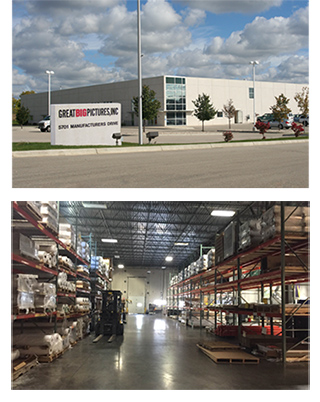 Clearwater, FL, August 11, 2015 – GSP, a leading provider of retail services, announced its growth plans today for Madison, Wisconsin-based, large-format graphics production lab, Great Big Pictures (GBP), which GSP acquired in May 2015.

The plant upgrades will accelerate the long-range growth of the fashion retail services provider and help GSP, its parent company, expand its reach. They include…

Expanded warehouse and fulfillment facilities to support complex, multi-store distribution requirements
The installation of specialized racking for storage of permanent retail graphics and store fixtures
Increased staffing in customer service, design and fulfillment
"The improvements provide a springboard for the rapid growth we've already experienced in 2015, as well as for organic growth that continues as word spreads about our merger," noted GSP CEO Geoff Neuhoff. "We are able to use GBP's ideal Midwest location, talented staff and expanded facility to provide faster turnaround and reduced transit costs to customers in the area," he said.
"These are exciting times," said GBP's VP and General Manager Alice Torti, "especially the idea of adding new positions. We are really looking forward to the new technology and talent."
ABOUT Great Big Pictures
A leader in the world of retail display graphics since 1973, GBP offers an 80,000-square-foot production facility with the finest in conventional and digital imaging equipment operating 24 hours a day, seven days a week. It offers photographic-quality printing, propping and visual fixturing to retail partners nationwide and is located in Madison, Wisconsin.
ABOUT GSP
GSP helps consumer-facing businesses transform their growth strategies into store-level results. Our site intelligence software optimizes planning and enables flawless store-specific retail execution. Our survey services ensure that retailers know the details of every store to improve capital expenditure decisions, store understanding and store support. Our design team provides award-winning food photography, foodservice graphics and industrial design solutions tailor made for retail results. And our point of purchase management team leverages expertise in design, production, fulfillment and data management to maximize return on in-store marketing efforts. We make retail better. For more information, visit www.gspretail.com.

Contact: Marketing – GSP (Email: marketing@gspretail.com, Voice: 727-532-0647)