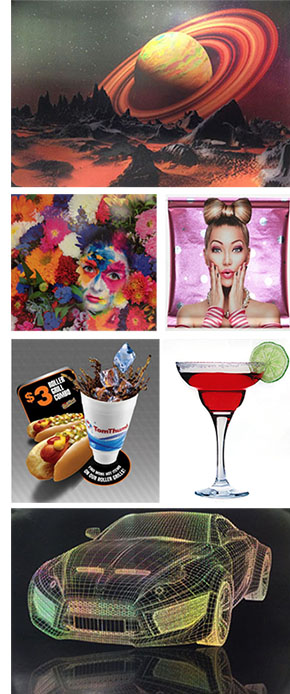 Clearwater, FL, November 5, 2015– GSP, a leading retail services provider, is proud to announce today that it has been honored with an impressive seven SGIA Golden Image Awards during the annual Specialty Printing and Imaging Technology SGIA Expo in Atlanta, including the top prizes of "People's Choice" and "Best of Show." The image "Saturn", shown right, won "Best of Show" for its creativity. The image at the bottom, "Bling Car Gold," was voted "People's Choice."
Two of the five winning entries were produced by Great Big Pictures, the Madison, Wisconsin-based large-format graphics production lab acquired by GSP earlier this year.
GSP Vice President of Operations, Elaine Scrima, was on hand to pick up the two gold ribbons and three silver ribbons, as well as the Best of Show and People's Choice awards, said, "For the third year in a row, GSP wins! I'm honored to represent the outstanding work that our team produces on a daily basis at our three imaging facilities for our retail and foodservice customers." Scrima was attending the SGIA Expo when the winners were named and was also part of an SGIA "graphics production dream team" panel of imaging experts who spoke on best practices.
SGIA's Golden Image Awards celebrate industry-leading excellence in specialty imaging. Nearly 400 entries in 53 categories were submitted from 87 companies around the world and evaluated during the SGIA Expo in Atlanta. The Golden Image competition is judged on the technical accomplishments of each entry, excluding aesthetic issues from the evaluation and scoring process. Prints are judged on the level of difficulty and quality of execution.
SGIA's Vice President of Technical Services Johnny Shell called this year's competition among "the best they've judged" and congratulated GSP, saying, "Winning these awards puts GSP among the top specialty printers in the world in terms of quality and capability. The ability to (do it) consistently… means GSP is an expert at controlling the many variables involved in specialty printing."
ABOUT SGIA
Expo recap of the SGIA Expo and a complete list of Golden Image winners can be found at https://www.sgia.org/.
ABOUT GSP
GSP helps consumer-facing businesses transform their growth strategies into store-level results. Our site intelligence software optimizes planning and enables flawless store-specific retail execution. Our survey services ensure that retailers know the details of every store to improve capital expenditure decisions, store understanding and store support. Our design team provides award-winning graphics, food photography, visual merchandising and industrial design solutions tailor made for retail results. And our point of purchase management team leverages expertise in design, production, fulfillment and data management to maximize return on in-store marketing efforts. We make retail better. For more information, visit www.gspretail.com.
Contact: Marketing – GSP (Email: marketing@gspretail.com, Voice: 727-532-0647)