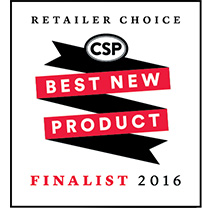 Clearwater, FL, August 10, 2016 – GSP, a leading provider of retail services, is proud to announce that its Print On Demand technology has been selected by CSP magazine as a finalist in the technology-software category of the 2016 CSP Retailer Choice Best New Product Contest.
GSP developed a Print On Demand menu solution to meet the needs of multi-unit consumer facing brands so they can tailor their menu offerings in different markets. With its cloud-based platform and easy-to-use interface, anyone can make menu changes. This Print On Demand technology is already being implemented by great retailers such as Auntie Anne's®. Each of its 900+ stores now has the freedom to print its own location-specific menu boards while staying true to corporate brand standards.
"We needed a more convenient solution for ordering menu boards to help us stay competitive," said Meredith Wenz, Auntie Anne's Director of Marketing. "The existing process did not allow for all of the product variations and franchise requests that could overload our marketing and creative teams."
"With Print On Demand, menu board requests are processed and built through a single system," said Kevin Farley, GSP's Chief Operating Officer. "It gave Auntie Anne's the flexibility to adjust pricing at the local level and test new items without compromising brand consistency."
"From creating graphics and enticing food photography to flawless store execution and now the ability to customize menu boards, Print On Demand is another one of many solutions that GSP offers the convenience retailing industry," said Farley. "There is also the potential to use Print On Demand to help simplify FDA menu labeling," he added.
The product that receives the most votes from convenience retailers will be named the winner of CSP's contest. Voting is open now through September 9, by tweet using the hashtag #cspnpc2016 or by the voting form at www.CSPDailyNews.com/2016bestnewproduct. Winners will receive an award plaque at the 2016 NACS (Association for Convenience & Fuel Retailing) Show in Las Vegas as well as coverage in the December issue of CSP magazine, the leading source of news and analysis for the $682 billion convenience and petroleum retailing industry.
ABOUT AUNTIE ANNE'S
Established in 1988, Auntie Anne's has more than 1,000 bakery franchise locations worldwide in malls, outlet centers, airports, train stations, travel plazas, colleges and universities, as well as non-traditional shopping and entertainment centers. The world's largest hand-rolled soft pretzel franchise, Auntie Anne's couples a fresh, sweet taste with a light, bread-like texture that elevates hand-rolled soft pretzels to a category of its own. In addition to a variety of sweet and savory pretzel flavors such as Original, Cinnamon Sugar and Almond, Auntie Anne's is also loved for its Pretzel Dogs, signature lemonade and Lemonade Mixers. Its parent company is FOCUS Brands, Roark Capital Group.
ABOUT GSP
Founded in 1978, GSP is a retail services provider located in Clearwater, Florida with three regional production facilities (Clearwater; Provo, Utah; and Madison, Wisconsin). By using surveys and a proprietary software system, GSP helps retailers accurately measure and store site data, guaranteeing the right size sign is delivered to the right store every time with no overage. GSP also offers award-winning marketing, food photography, industrial design, visual merchandising, best-in-class graphics and smart POP program management to more than 60,000 retail locations throughout North America. Recent growth led GSP to add AccuStore, a survey, app and site profiling software brand, and the large-format graphics lab Great Big Pictures, which specializes in fashion retail. For more information, visit www.gspretail.com.
Contact: Marketing – GSP (Email: marketing@gspretail.com, Voice: 727-532-0647)