Clearwater, FL, April 1, 2014 – GSP, a leading provider of retail services, is proud to announce today that their design work for Circle K's Heineken POP signage has received a Gold ADDY at the District level in the American Advertising Award competition, and is now a National American Advertising Awards finalist.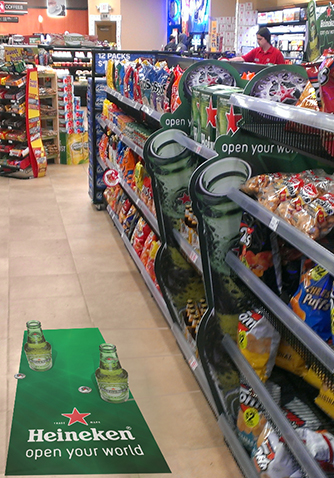 The 2014 American Advertising Awards is the advertising industry's largest competition, attracting over 40,000 entries every year. The mission of the American Advertising (ADDY) awards is to recognize and reward the creative spirit of excellence in the art of advertising.
The Heineken Aisle Invader and 3D Floor Graphic were designed and produced by GSP to create impact, improve visibility and drive traffic to the Heineken beer display in Circle K stores. The Heineken POP signage has also received a Tampa Bay ADDY award and an American Package Design award.
"We are very pleased that our Heineken signage design work has received another ADDY," said Steven Cohen, GSP's Vice President of Design Services. "It is an honor to be recognized by the AAF at the district level."
ABOUT GSP
GSP provides retail branding and marketing services with a focus on site-specific execution to help trans-form your growth strategies into store-level success. We provide the lowest cost POP program available by ensuring your stores only get what they need and nothing more. And we help you create an amazing in-store consumer experience and provide the tools to help execute it - store by store. We make retail better. For more information, visit gspretail.com
Contact: Marketing – GSP (Email: marketing@gspretail.com, Voice: 727-532-0647)