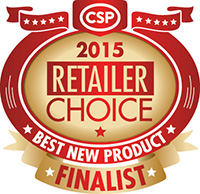 Clearwater, FL, July 23, 2015 – AccuStore, a leading provider of site intelligence for retailers and multi-site operators, is proud to announce that the new Store Hub interface for its proprietary site profile management platform has been selected by CSP magazine as a finalist in the technology-software category of the 2015 CSP Retailer Choice Best New Products Contest.
Store Hub provides a dashboard view of key store-level information such as:
Competitive Environment - provides an overview of nearby competitors and insight into the local competitive landscape for improved planning of new store rollouts.
Shopper Experience Reporting – showcases photos and insights recorded by chain personnel during store visits at each location.
Operational Activity – highlights pending tasks, the latest reported open issues and database updates, and store items that need to be updated.
The Store Hub can be viewed from anywhere – including mobile devices – and it shows the most up-to-date, accurate information possible so retailers can better understand the non-financial store data impacting the customer experience and retail performance.
"This is a great honor," said Richard Jimenez-Alicea, AccuStore's Director of Business Development. "We're thrilled to know that AccuStore is having such an impact in the industry. We saw the need for retailers to have immediate access to store data, without having to struggle with outdated spreadsheets or thumb through an inbox full of emails to find the information they need. Store Hub's intuitive dashboard makes it even easier to find the specific store data needed to implement new programs and ensure important changes get executed correctly and on time."
Retailers in the convenience channel will select winners by voting on the top three finalists either through www.CSPnet.com/2015productwinner (will be live on August 3) or by tweet using the hashtag #cspnpc2015. Voting begins August 3 and ends on September 1. Winners will be notified immediately and presented with an award plaque at the 2015 NACS (Association for Convenience & Fuel Retailing) Show in Las Vegas as well as coverage in CSP magazine.
About CSP
CSP magazine is the leading source of news and analysis for the $682 billion convenience and petroleum retailing industry.
About AccuStore
AccuStore helps multi-unit, consumer-facing businesses reduce spend and accelerate their growth through customized site profiling capabilities and an enhanced store profile technology that allows retailers to build and maintain a central repository of site-level details accessible throughout the organization. AccuStore's technology features a built-in survey tool and a full screen web interface that is an intuitive, easy-to-use platform to monitor and maintain site-specific data. The mobile app enables managers to turn their strategic plans into store-level results on the go. To find out more, please visit www.accustore.com or email info@accustore.com. For more information about the AccuStore Store Hub, please see http://www.accustore.com/solutions/site-specific-dashboards/.
Contact:
Email: info@accustore.com
Voice: 727-532-0647
AccuStore, a GSP company, originally published this press release. Click here to view original press release.